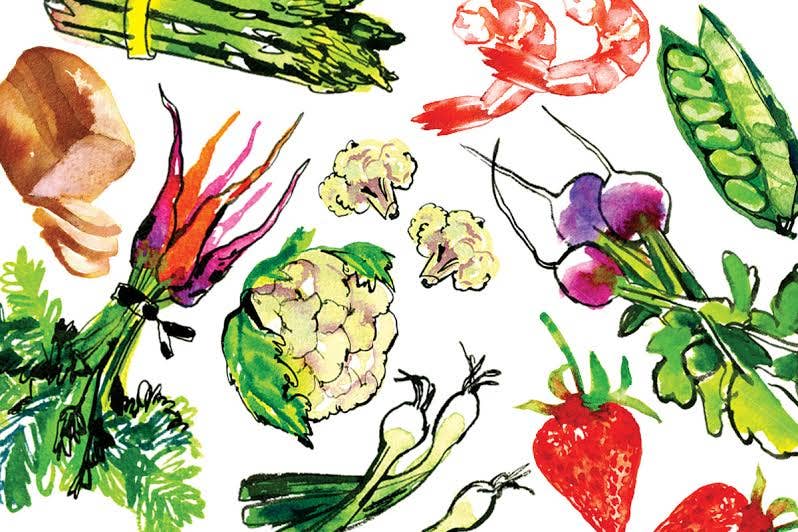 Culture
Fuel for Fellowship
Church breakfasts are a familiar comfort for churchgoers of all denominations who gather on weekend mornings to discuss affairs of the church and eat great food.
**Kosciusko, Mississippi
**
The men of the First Baptist Church in Kosciusko get an early start on the day of their monthly prayer breakfasts. At about five o'clock on a recent morning, in a kitchen attached to a gymnasium filled with foldout tables and aluminum chairs, James Malone (far left), one of the church's deacons, was cutting butter into flour for his flaky buttermilk biscuits. Church member Jerry Young (far right) was cracking jokes and scrambling eggs, more than a hundred of them, in batches. At his side stood Bud Moore (second from left), tending a sizzling griddle of sausage and bacon, while my dad, Gerry Mims (center), stirred grits and Glenn Brock (second from right) brewed coffee. The cooking and consuming of these church breakfasts is a familiar comfort, not just for me, who grew up attending them, but for churchgoers of all denominations who gather at such events on weekend mornings across the country to pray, to discuss affairs of the church such as charity and volunteer efforts, and, not least, to eat great food. You'd be hard pressed to find a restaurant anywhere in town that served breakfast fare as delicious as the spread put out at my home church. The cooking crew rotates every few months, allowing congregants a chance to share their specialties, like parishioner James Malone's rich tomato gravy made with bacon drippings. Finally, when the food is ready, the attendees pass plates and pots of coffee, then bow their heads to give thanks for the bounty before them.