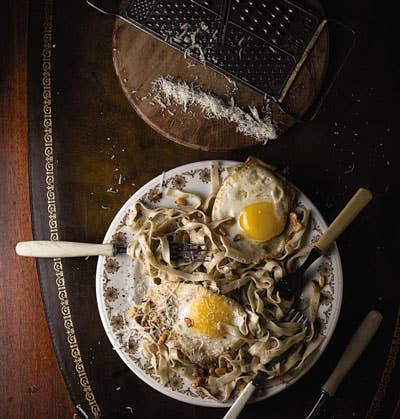 Culture
Open House
The hard-won pleasures of Sunday lunch
It's possibly no exaggeration to say that my mother-in-law Alda's Sunday lunch is a full third of the three things I like about being married to my Italian husband. The first time I attended one, at her large and elegant apartment in Rome, there were hand-cut egg noodles—pasta fresca—and roasted red peppers and boiled zucchini and cruets of golden oil from her own olive trees in Puglia. There was mozzarella, still warm from the caseificio, and the table was laid with her wedding silver and two heavy cloths, crisp and starched and freshly ironed. The tall shutters were half-closed against the harsh afternoon heat. The whole family—her six children and the spouses and the grandchildren—had arrived in a swarm, and soon the small mob was casually dispersed throughout the many rooms of the grand apartment, relaxed and just hanging out.
There were many bottles of chilled Muller-Thurgau from the Alto Adige—particularly delicious and nearly effervescent from acidity—that my husband had grabbed from the local wine store with the same total ease and casual confidence with which the Italians pick out their bright blue ties and pull on their orange cashmere sweaters. Effortless. Genetic. A freaking cultural birthright.
I've been to a dozen of Alda's Sunday lunches by now. If you doze in the big leather chair for a few minutes after the meal, she picks up the magazine that has slipped from your lap and sets it next to you on the table. If you break a dish while helping to clean up afterward, she shrugs and smiles, saying she never liked that dish anyway and she's been hoping for years someone would break it. If you stroll into the kitchen where she is arranging the food and snitch a sliver of prosciutto from a platter, she smiles and does not scold you.
I've come to want this for my kids, too. I want them to know that even when they are 40 years old, they can come over on Sunday at 2:00 p.m. and have lunch. They can bring their kids, their boss, their friends, their friends' friends. I don't care. Just come over.
So, finally, I decided to start the small tradition of Sunday lunch at our own home in New York; I told everyone I knew and invited them all. I'm starting a tradition, I said. It'll be every Sunday, I announced, from now through all eternity, and you are welcome.
For the inaugural lunch, I composed a menu with Alda in mind and shaped it around what I thought she might cook. I would make a fresh pasta dish with fried eggs and pine nuts and brown butter. And there would be some fennel with cream and Parmesan, baked al forno, by which I mean in our General Electric digitally controlled oven, into which we have shoved a heavy pizza stone that lives there permanently. I also planned a simple bagna cauda of sweet red cabbage wedges, elevated by warm anchovy butter. And for Michele, my husband, I'd make some scamorza cheese fried in a pan—a dish that he loves and that he taught me to make. Some of his doctor and scientist friends were expected, and a writer friend of mine.
Except that somehow my husband and I fell into one of those massive, lacerating, deep and dark marital blowouts that you never forget for as long as you live. On Sunday morning I came downstairs and started to boil water for my coffee. I was looking in the cupboard for a filter but landed on a brand-new box of instant mashed potatoes.
Michele, trying to enjoy the newspaper, looked up over his reading glasses and said,
"What?" Then he reached across the counter and pointed out to me the big red advertising hype splashed across the front of the box, and read it out loud in his thick Italian accent: "One hundred perrrrrcent rrrreal Idaho poe-tay-toes."
Michele has both an M.D. and a Ph.D. and he doesn't mind my telling you so. I am a chef who started as a dishwasher 30 years ago, and that little discrepancy between us, I should mention, comes up from time to time. And somehow it presents itself on this morning and escalates, unfortunately, to previously unreached and ferocious heights. The double-doctor educates me—the poor little dishwasher who will sadly never understand the complex and scientific virtues of dehydrated potatoes—as he will.
"I can't even fake this lunch," I bellowed. "I'm not going through the goddamned motions," I yelled down the banister as I grabbed our two young sons—the remaining full two-thirds of what I like about being married to this man—and stomped up to the third floor of our home.
Oddly, I don't really give such a big shit about boxed mash in our cupboard. We've got Hellmann's. We've got Haagen-Dazs. We've got Progresso. There are chemicals produced by Dow stashed under our kitchen sink. It's not that.
But whatever it is, I spend the rest of the morning on the third floor with the kids, refusing to cook. In my industry, you are never down or off. Your bad day, your imminent divorce, your no-show, no-call dishwasher don't count. You suck it up and give good restaurant. But for some reason, on this particular day, worn down in just this particular way over a box of dehydrated freeze-dried potato flakes, I could not rally.
Then I heard the doorbell. I heard voices way downstairs. I did not uncross my arms from in front of my chest. The doorbell rang again, and sounds of life and gaiety began to float up to the third floor and then, right behind that, the smell of something good to eat. Something rather good. Catharted and spent—I had screamed what there was to be screamed, cried what needed to be cried—I took the stairs one step at a time, with my two boys in my arms, and joined everyone in the kitchen.
Michele, now in an apron, had completely rallied. He had opened the very best Italian reds that we owned and into the oven he had plopped two frozen cheese pizzas onto the stone. He smiled at me in exactly the right way, the way that says "Let's forget it," and poured me a glass of the Sassicaia, a ruby incredibleness, which made a direct warm path to my heart. And then this man—amore mio—pulled the pizza out of the forno; the otherwise doughy, bad bread basket type of crust had become extra crisp and the flabby cheese had become nutty and concentrated. We all descended on it. Just by cranking the oven to 500 degrees and leaving them in for a little longer than the package instructions advise, he had made a truly delicious lunch, which is one way of salvaging store-bought frozen pizza—and tradition—that I will forever remember. By the back door, I noticed, he had stacked the broken chair into a neat bundle of kindling, to be put out later with the garbage.

Recipe: Brown Butter Pasta
Recipe: Finocchio al Forno (Fennel Baked in Cream)
Plus:
See all of the 25 Greatest Meals Ever