Get To Know Your BFBA Finalists: Best Special Diets Blog, Best Wine or Beer Blog, and Best Cocktail Blog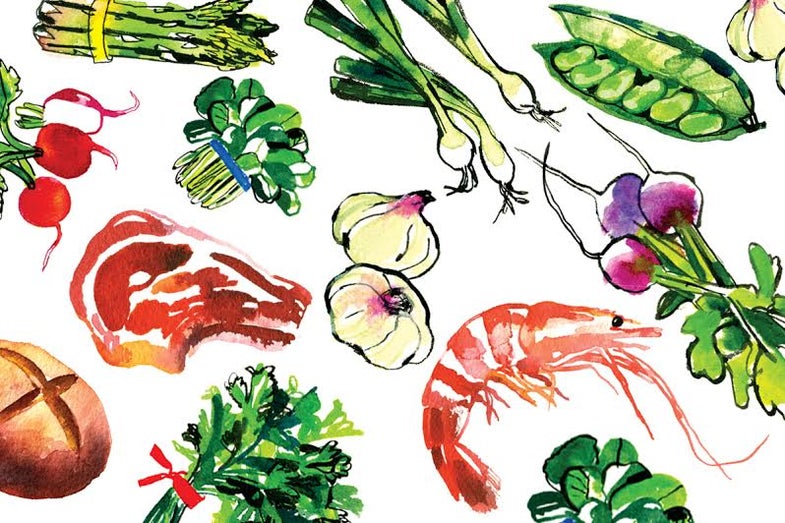 We love each and every one of the six finalists in each and every one of the sixteen categories of our Best Food Blog Awards, and we want you to get to know them as well as we do! The blogs in these three categories all cater to a special niche: The finalists for Best Special Diets Blog focus on cooking and eating well with dietary restrictions, from vegetarianism to low-carb to gluten-free cooking. The nominees for Best Wine or Beer Blog offer pairing advice, reviews, and the latest news in the wine and beer worlds. And the finalists for Best Cocktail Blog bring us new and classic recipes, spirits news, plus tips on mixing fantastic drinks.
BEST SPECIAL DIETS BLOG
•Roost
Caitlin and her husband eliminated all gluten, grain, sugar, lactose and starch from their diets in an effort to treat her husband's Crohn's Disease. Two years later, her husband is healthy and Caitlin has turned her blog into a treasure trove of recipes for those on limited diets. A self-taught food photographer and stylist, we love the beautiful images that accompany each recipe.
•Nom nom paleo
The recipes on Nom Nom Paleo are based on a diet that eschews grains, dairy, legumes, sugar, and all kinds of processed foods. If you find that idea limiting, you'll be surprised by the variety of dishes and ideas featured here.
•Pure
A bhakti-yogi who runs a company that offers cooking classes, consulting and catering, Lakshmi focuses on an exclusively vegetarian diet. Each dish is made with special care taken towards using quality ingredients, and is accompanied by light-filled photographs.
•My Darling Lemon Thyme
A trained chef, Emma Galloway shares recipes from her mostly gluten- and dairy-free vegetarian diet, which she adopted after having children. Since 2010 she has been sharing what her family eats on her blog, including a thoughtful guide for those new to eating without gluten and dairy.
•Tartelette
A former restaurant pastry chef, Helene Dujardin started her blog in 2006 after she made the switch to food photography and styling. In 2008 she was diagnosed with Meniere's disease, and began experimenting with reducing gluten, sodium, and cholesterol in her diet. This has spilled over into her blog posts, where she now features an array of delicious gluten-free sweets and savories.
•Sodium Girl
In 2004, faced with a diagnosis of lupus and the prospect of kidney failure, Jessica reinvented her diet to cut out the sodium. Her experimentations in the kitchen led to her blog, where she shares her tricks for making flavorful food without salt. From baked polenta fries to brisket tacos, there are tons of creative options for anyone who needs to reduce their sodium intake.
BEST WINE OR BEER BLOG
•Wine Diarist
This blog from Mike Steinberger, the wine columnist for Slate, features not just tasting notes but commentary on events and debates in the world of wine. It's a great starting point for anyone interested in deepening their knowledge of the vine.
•Dr. Vino
Tyler Colman's resume is all about wine—he teaches it, writes about it, and even has a PhD under his belt. Unnsurprisingly, his blog is full of all manner of wine-related musings, from the best wine shops in any given city to the state of wine writing to what to do with leftover corks.
•Good Wine Under $20
Like the title implies, this blog offers advice on buying that have a good price point and pair well with food. We love the ability to search by type of wine, price, or rating (the blog's rating system is based on a wine's QPR, or Quality-to-Price Ratio).
•Vinography
Started in 2004, Alder Yarrow's blog is a labor of love (he runs the comprehensive site when he's not running his interactive design and strategy consulting firm). One of the first wine blogs to launch, it's now an encyclopedic source of wine and restaurant reviews.
•Cruisin' for a Brewsin'
Blogger Ale Sharpton (not his real name, we assume) travels the U.S. and writes about his favorite finds in the world of beer along the way, sharing stories and giving us new bottles to try.
•Pete Drinks
What started out as an occasional guest post with tasting notes on his wife's food blog turned into a full-fledged obsession for Pete. Now he reviews beer and whiskey with an eye towards the home enthusiast, as well as writing about his homebrewing efforts.
BEST COCKTAIL BLOG
•This Girl Walks Into a Bar
A bartender who has served the likes of Kiefer Sutherland and Pamela Anderson, Jordan Catapano shares anecdotes from her bartending days along with plenty of original recipes.
•There Will Be Bourbon
Patrick and Rachel love bourbon. They really, really love bourbon. You'll find it in many permutations on their site: they feature not just reviews of the spirit but also bourbon beer, restaurants serving bourbon, and bourbon-based sweet and savory recipes.
•12 Bottle Bar
Geared specifically towards the home bartender, David Solmonson's blog is centered on 12 carefully curated bottles and the many classic cocktails that can be made from them.
•The Five O'Clock Cocktail Blog
Writer and food critic Rose Maura Lorre is constantly developing new and interesting cocktail recipes with specific themes in mind — like one she recently created specifically to pair with pizza. We love the conversational tone, the witty asides, and the stories that accompany each cocktail.
•Alcademics
Alcademics is the outlet for the effusive and encyclopedically knowledgeable cocktail and spirits writer Camper English. You'll find the latest news in the world of spirits, plus original recipes and intriguing works-in-progress, like his experiments with dehydrating liqueurs to use as flavoring powders.
•Jeffrey Morgenthaler
The bar manager of Clyde Common in Portland, Oregon, Jeffrey started out bartending while completing an degree in interior architecture. He quickly realized that bartending was his passion, and started writing about it soon after. His blog is now a mix of bartending advice and drink recipes: he posts both cocktails that he's working on and classic cocktails that he's perfected.