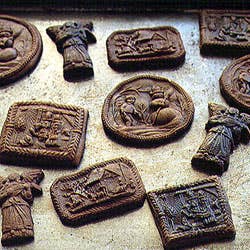 Culture
Gingerbread Dreams
Spicy, sweet, and full of lore, this holiday confection defines the season.
Abraham Lincoln never cared much about food, but he made an exception for his mother's gingerbread. One day, Lincoln recalled, as he sat under a hickory tree ready to gobble down three freshly baked gingerbread men, a young lad from a neighboring family poorer than his came along: "'Abe,' he said, 'gimme a man?' I gave him one. He crammed it into his mouth in two bites and looked at me while I was biting the legs off my first one. 'Abe,' he said, 'gimme that other'n.' I wanted it myself, but I gave it to him and as it followed the first, I said to him, 'You seem to like gingerbread.' 'Abe,' he said, 'I don't s'pose anybody on earth likes gingerbread better'n I do—and gets less'n I do.'"
Like Lincoln's wistful young neighbor, I have a penchant for gingerbread—the term now applies loosely to any spice cake containing molasses and ginger—but I've been lucky enough to enjoy more than my share.
I grew up with the delicious aromas of molasses-and-spice-laden cookies baking in my grandmother's oven as the winter holidays approached. Sometimes I'd devour them before they'd even had a chance to cool. As I learned more about the history and the ancient cultural connotations of gingerbread, I became fascinated and found myself going to great lengths to seek it out, both at home and abroad. But notwithstanding the treats I've sampled during my travels, what the taste and smell of freshly baked gingerbread still conjures up for me, above all, is visions of home and family—and of the cold days that herald the arrival of the holiday season.
Gingerbread's special zing comes from ginger itself—the roots, or, to be botanically correct, the rhizomes, of a tropical plant called Zingiber officinale. Asian in origin, ginger was known to the ancient Greeks and Romans, who used it as medicine. Monks in medieval Europe were among the first to bake with it, concocting a heavy dough of dark rye or wheat flour, strong buckwheat honey, and a variety of spices. The unique flavor caught on, and by the 1400s, gingerbread was a staple throughout northern Europe—made by bakers many of whom belonged to powerful guilds, with their own coats of arms and regulations. Sometimes, the dough was embellished with fruit and nuts; by the 1600s, eggs and butter or lard were being added, and the dough was being cut into squares, shaped into animal or human figures, or pressed into elaborately carved wooden or terra-cotta molds that portrayed saints and biblical events.
Many European countries have their own gingerbread specialties. In Nuremberg, Germany, which was a center of the spice trade in the 14th century, the specialty is Lebkuchen, the original German spice cookie. Lebkuchen used to be made with just honey, flour, and spices, but now German bakers add not only eggs and butter, but citrus peel and sliced almonds or chopped hazelnuts. The cookies come thick or thin, and either plain or decorated with icing or pasted-on pictures. In Munich, early one December when the whole city had become a winter fairyland, I found stall after stall in the marketplaces festooned with pine boughs and decorated with Lebkuchen in the shapes of stars, angels, magi, and hearts.
In Aachen, the ancient German city near the Dutch and Belgian borders, the local gingerbread is called Aachener Printen. My favorite place to enjoy it is in the calm of the wood-paneled Konditorei van den Daele, a charming old pastry shop and cafe that has been owned by the same family for over 150 years. Aachener Printen is made with dough flavored with honey, orange peel, and a mixture of spices—including cinnamon, cloves, aniseed, cardamom, and ginger—rolled out into large sheets and "printed" with intricately carved molds before baking.
In Belgium and the Netherlands, the thin, crisp, buttery speculaas or speculos is the traditional spice bread, always served on St. Nicholas's Day, December 6 (the 5th in the Netherlands), when children receive their holiday presents. The custom of eating speculaas on this day is depicted in many 17th-century Dutch genre paintings.
I wandered into a bakery in the Belgian town of St. Nicholas one December 6 and found it filled with speculaas molds, ranging in size from just a few inches tall to almost life-size. I happily walked out with a four-foot-high mold of the saint, the archetype of Santa Claus, under my arm.
Gingerbread has long been popular in France, as well; called pain d'epices, which means spice bread, it doesn't always contain ginger. In Paris, a gingerbread fair (now called the Foire du Trone) has been held annually each spring near or in the Bois de Vincennes since the Middle Ages, when monks sold little gingerbread pigs as symbols of good luck. (Gingerbread as we know it was primarily a fairground treat for centuries.) Dijon, famous for its mustard, is also the capital of pain d'epices.
Across the English Channel, in London, Chaucer wrote about "roial spicerye of gyngebreed that was ful fyn." He was probably referring to a spice cake made with a mixture of bread crumbs, honey, ginger, and red wine that was pressed into forms and dried in the oven. No expense was spared in making the gingerbread served at Tudor and Stuart banquets—it was covered with gold leaf and adorned with gold-dipped cloves.
Molasses or treacle first replaced honey in gingerbread in England in the 1600s—about the same time that flour replaced bread crumbs. As local adaptations were made to the basic recipe, regional specialties developed. The county of Norfolk is noted for "fair buttons"—ginger cookies named for the buttons on men's jackets. From the village of Grasmere, home of the poet Wordsworth, comes a very dark, moist gingerbread with candied fruit. Several types of local gingerbreads are served at historic homes administered by Britain's National Trust. You can sit at the riverside tearoom at Nunnington Hall in Yorkshire, for instance, and try the rich, dark parkin, almost a cross between bread and an oatmeal cookie.
English colonists introduced gingerbread to America. "We ate gingerbread all day long," wrote the Virginia diarist William Byrd in 1711, referring to a day he spent training for the local militia. Germans who emigrated to Pennsylvania added Lebkuchen to the American gingerbread repertoire; Moravians in North Carolina rolled gingerbread dough paper-thin to make delicious crisp cookies; and Swedish settlers brought along their recipes for pepparkakor, which are the cookies we now call gingersnaps.
Eighteenth-century Americans also developed a fondness for soft, cakelike gingerbread. Mary Ball Washington, George's mother, created such a confection, studded with raisins and orange rind, in her kitchen. When General Lafayette paid her a visit in 1784, she served him some, accompanied by a mint julep—and the gingerbread cake came to be known as Lafayette Gingerbread.
It's also one of my favorite desserts of any kind. But then, well, I don't s'pose anybody on earth likes gingerbread better'n I do.