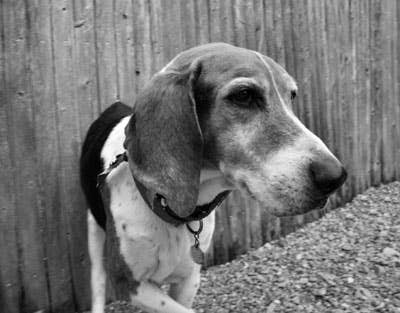 Culture
Going to the Dogs
A birthday dinner, shared among friends
Some people are connoisseurs of food. I'm a connoisseur of kindness. Each year on my birthday, Mother—Julia "Juts" Brown—would cook whatever I asked for, followed by my special birthday cake. My seventh birthday, November 28, 1951, was a week away.
"Hey, kiddo, what do you want for your birthday dinner?" she asked when I got home from school.
"Fried chicken. But Mom, I want to eat with the hounds."
Long pause. Then she laughed, removing the ever present lipstick-stained Chesterfield. "You'll have to eat on all fours."
Mother leveled her gray eyes and ushered me out the door so we could walk the three miles to visit her sister. Mother walked everywhere, one reason she looked so terrific at the age of 47. Twenty minutes later, having passed horses, some pigs, and a few neighbors, we arrived at Aunt Mimi's house with the wraparound porch. Butch, my aunt's Boston terrier, rushed to greet us, followed by the click, click of Aunt Mimi's heels.
Never did I see my aunt without shoes with some heel, her makeup, her bracelets, her earrings. Everything always matched her dress. Mother was more daring; she might wear pedal pushers in summer, a kilt in winter. I knew, even then, that I'd never live up to those fashion plates.
Aunt Mimi poured us some tea. Settled at the kitchen table, Mother launched her first missile. "Sis, the kid's birthday is next week."
Aunt Mimi, gray eyes like Mother's, leaned toward me. "Seven. Special birthday. I remember mine."
"She wants to have her birthday dinner with PopPop's foxhounds."
A stunned silence was followed with a loud "What? You can't be serious." Aunt Mimi stared at me.
"The hounds and Suzie Q are my best friends," I said. Suzie Q was a Percheron horse.
"Sugar Pie, a birthday is a social event. Sharing it with friends is one of the ways a young lady of quality learns to take her place in society."
"Sis," Mother said, cigarette dangling, "there's lots of time for that."
"Now Julia, be reasonable. I know she loves animals, she has a gift with them, but this is—well, unusual. You indulge your child."
"Come on, you're only a kid once. Make your spoon bread." Aunt Mimi made the best spoon bread in the Mid-Atlantic, I swear. Then, voice low, Mother murmured. "Think of Father."
An agonizing pause followed. Even Butch noticed.
On the walk back home, Mother exulted. "Forty-seven years, and my sister never told me I was right. God, she's impossible, but I do love her."
PopPop, when asked if I could share my dinner with his hounds, gleefully agreed. George "PopPop" Harmon was not a gleeful man, nor was he the father of my mother and aunt, but he was the only father they had ever known. Their blood father, too handsome for his own good, left their mother for a life of riotous living and died young thanks to the same.
PopPop, born in 1894, wiry, intelligent, a good wit, great with animals, had shipped off to World War I. He came back withdrawn, still intelligent but given to drink. He tried to drown his troubles but they knew how to swim. Once my grandmother died, he couldn't hold a job. He made a bit of money entering hunting contests with his hounds.
He might go a few days without drinking, but sooner or later he'd drift off to a bourbon lullaby. His eight hounds kept him alive. After he passed, people told me I'd kept him alive as well.
No one ever criticized my grandfather to my face. Despite his affliction, he was a good man. To Mother and Aunt Mimi's credit they did not deny his difficulty nor hide what wars can do to those who must fight them.
On the afternoon of my birthday, I arrived at the kennel to find a picnic table in the feed room, covered with oilcloth and an arrangement of pinecones and flowers. There we sat, Mother, Aunt Mimi, Dad, Uncle Merle, PopPop, and me, wearing barn coats. The dogs ate their homemade kibble from troughs a few feet away; PopPop had jimmied up a turkey-foot wire fence divider so they wouldn't come over as we ate.
What I wouldn't do for that meal today. Juts's fried chicken. Aunt Mimi's spoon bread with churned butter. Greens with fatback and bits of bacon. Sliced hot red beets. Shredded lettuce with Juts's creamy white dressing. Hot coffee for the adults. Ice cold Co'cola for me (in the South it's Co'cola, not Coke). Sweet gherkins and olives. And, finally, my special birthday cake: a double-layer white cake, each layer thickly covered with homemade vanilla frosting and then chocolate icing. If you got one of the toothpicks that held the layers together, you'd have good luck.
We laughed, we sang. When we sang, the hounds sang. I asked PopPop if I could give them some birthday cake. He said I could, so Mother cut eight little squares, putting them on a paper plate.
Now you would think those hounds would body-slam me for the cake, but I had learned a great deal in my seven years from PopPop. I joined them, made the little "whoo-op" sound he used, and called them by name. Each hound took his or her prize very daintily from my fingers.
When I returned to the table after kissing my friends and getting many kisses in return, I noticed PopPop was crying. Mom and Aunt Mimi were misting up, too. At seven, one can't always consider someone else's position and half the time you don't even know your own emotions, or at least I didn't. But that day, I realized my birthday meal had been for my grandfather as well as for me. And it showed me how kindness truly works.