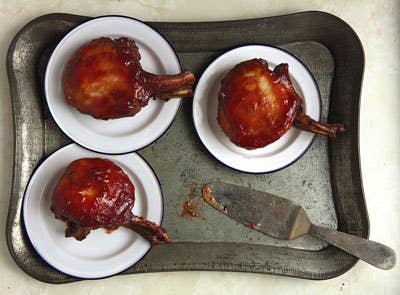 Culture
Good Neighbors
Dinner with Iowa's most beloved radio homemaker
Twenty years ago, we went to southwest Iowa and stayed awhile at the Tall Corn Motel in the town of Shenandoah. We've always had a special fondness for Iowa's cuisine: its cinnamon rolls are peerless; its respect for pork is legendary; it seems to have more great old soda fountains than anywhere else. It was during this visit that we had the best meal of our careers as chroniclers of road food, at the farmhouse of Evelyn Birkby, radio homemaker.
In the 1920s, when radio was new to most Americans, the medium was a godsend to isolated farm families in the Midwest, for whom solitude loomed as a daily problem. Radio homemakers were the heart and soul of Shenandoah's 500-watt KMA, which, in those days of uncluttered airwaves, bounced far and wide. To them, neighbor was a verb; at the microphone, which was often installed at their kitchen tables, they neighbored on the air, friendly and helpful voices to women starved for company. Evelyn Birkby, who began neighboring in 1950 with a daily show called Up a Country Lane, and who continues on KMA today (albeit less frequently), has shared her whole life with listeners. She has delivered encouragement when times were bad; she has discussed the toilet training of children and the decorating of farmhouse interiors; and she has shared her tribulations as a new wife struggling alongside her husband to raise chickens and hogs and to start a dairy farm.
As a young woman who'd turned to radio homemakers herself for guidance, Evelyn came to understand that their ingenuous descriptions of white laundry flapping on the line and fruit pies cooling at the kitchen window were the folklore of rural life, and that the recipes they shared were something more than supper suggestions.
One day, we heard her tell her audience how to make yeast bread. She began her narration with the tale of a young wife so frustrated because her dough didn't rise that she buried it in the yard. The sun shone that day, the yeast began to work, and when her husband came home for supper, he looked out back and gasped at what appeared to be a fresh grave behind the house.
When we visited Evelyn 20 years ago, she took us to the local pharmacy for lunch-counter ice cream sodas and to her friend Emmy's cafe to eat fluffy cinnamon buns made with water from the boiled-potato pot. For our last night in town, she invited us to her home for what she billed as a real Iowa supper. We ate at twilight at a table on the screened porch in back of the house, where we could look out at the garden, listen to a family of nesting wrens, and see the equipment her husband, Bob, who worked for the Department of Agriculture, used to report climatic conditions to the United States Weather Service in Des Moines.
As our host, Evelyn spoke with the same familiar intimacy she uses when she neighbors on the air, taking every opportunity to enthrall us with the rural customs that enthralled her. She prefaced the meal by chronicling her trip to nearby Essex to a butcher who'd assured her that the evening's pork chops came from an Iowa pig. The cut, she explained, was what cooks call "Iowa chops," meaning nearly two inches thick. They had been prepared according to a recipe titled "Elegant Pork Chops" from Virginia Miller, a longtime KMA listener and friend who lived in an old farmhouse a half hour's drive from Shenandoah. Miller, Evelyn advised us, was known in the area as a crackerjack cook. Her chops were as tender as pot roast and exceedingly succulent: mighty plateaus of marinated pork, baked in a sweet-sour sauce made of molasses, ketchup, and brown sugar, that vented wisps of sweet porcine perfume when sliced into. With the chops, Evelyn served corn on the cob picked from the Birkby garden, allotting four ears per person. On a big plate next to the bowl of corn were a tub of Promise margarine, a stick of I Can't Believe It's Not Butter!, and a stick of Iowa butter. Also on the side were pickled beets, broiled tomato halves topped with seasoned bread crumbs, a salad tossed with X-Tra Touch Country-Style Dressing (made in Shenandoah) that Evelyn had lightened with a bit of beaten egg white, and a homely but satisfying loaf of seven-grain bread, for which Evelyn apologized: only five grains had been used. To garnish the bread, in addition to the margarines and butter, Evelyn provided honey from Bob's apiary, plus blackberry and currant jelly and strawberry preserves, all from his fruit. The gooseberries in the gooseberry tart were Bob's, too, but the silky orb of lemon chiffon ice cream on top of each warm piece of tart was store-bought, a local brand made from a recipe developed by two ladies in Essex.
We drove away from supper on a two-lane road past methodical rows of corn and along pastures and vales where cattle grazed. The land was softly contoured; the undulation of the pavement made the ride feel like sitting a spell in a gentle rocking chair. We stopped at the top of a hill and shut off the car. A soft rain had fallen, and the air smelled of loamy black dirt. Other than the occasional grunt of a distant pig or moo of a cow, silence reigned.