Grizzly Bear: Your New Favorite Pie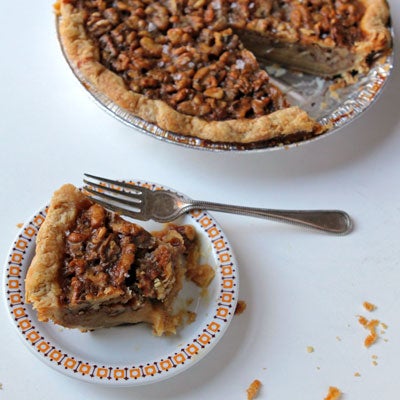 When it comes to winter sweets, pie is what I crave; give me a buttery, flaky crust filled with anything from cherries to chocolate, and I'm yours. For longer than I can remember, pecan pie has been the major dessert love of my life. Black bottom, chocolate chip, or straight up — any version of this king of Southern pies trumps all the others. That is, until I tasted the Grizzly Bear Pie served at Brooklyn restaurant Vinegar Hill House.
The restaurant's minimal description of the pie merely hints at its simple beauty: "walnuts, honey, cream." But what a combination they make! The honey and cream are whipped with egg to make a custardy filling that sits below a layer of toasted walnuts, all inside a thick, flaky, classic pie crust. The walnuts' slight bitterness balances the natural, intense sweetness of the honey filling with more subtlety and balance than the pecan-corn syrup interplay in pecan pie, and a gentle sprinkling of flaky sea salt over the top brings in a sophisticated depth of flavor that cements the Grizzly Bear as my new pie of choice: I've found a new love to join me this Christmas.
See the recipe for Grizzly Bear Pie »
**
**If you don't want to bake your own, email pies@vinegarhillhouse.com to inquire about pie availability.