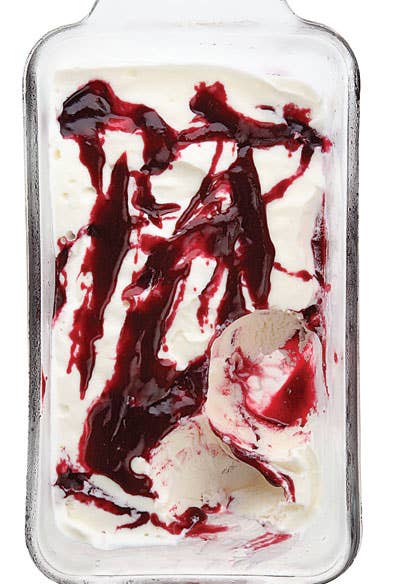 Culture
Here's the Scoop
There's a science to making rich and creamy ice cream
Ice cream was the salvation of swampy summer nights when I was growing up in Columbus, Ohio. The promise of cool cones was reason enough to pile into the station wagon, roll down the windows, and outrun the heat lightning and mosquitoes. In the late 1960s, there were still a dozen or so family-run ice cream stands around town that made homemade ice cream with milk and cream from local dairies. By the time I'd graduated from college they were all gone.
Then along came Jeni Britton Bauer. Raised in Peoria, Illinois, an Ohioan by choice, she opened her first ice cream counter in 1996 at Columbus's old North Market. A former art student, Bauer had pink hair and lots of foodie, cow-to-cone ideas. But her insanely imaginative small-batch ice cream was so pure, so rich, and so deeply flavored that Central Ohioans forgot to be alarmed by her eccentricities. They also forgot that they are the original vanilla cone crowd and began lining up for scoops of chile dark chocolate and salty caramel ice cream.
What's revolutionary about Bauer's ice cream has a lot to do with her creative flavors, but even more to do with her innovative techniques: "You have to see ice cream as chemistry, a delicate dance between proteins, sugars, butterfat, air, and a few other equally unsexy components," she says. "Once you understand the role that each plays, you have complete freedom with ingredients. I really geeked out on it all."
Now Bauer, whose hair has long since been restored to its natural dark blonde, owns nine Jeni's Splendid Ice Creams stores in Ohio and one in Tennessee. And her new book, Jeni's Splendid Ice Creams at Home (Artisan, $23.95), walks readers through her technique, which she adapted for the home cook. It's a novel approach which achieves some of the creamiest, most saturated-in-flavor ice cream that I've ever tasted.
The problem with homemade ice cream is that it's often too soft or too dense, lacking a luscious mouth-feel. Bauer's technique addresses, and solves, some of the common problems head-on.
Ice cream is basically a frozen emulsion, in which components that do not naturally meld—fat, water, and air—are encouraged to marry by adding such things as heat, proteins, sugars, and starches. The stronger the marriage, the more supple the ice cream will be. If water is not bound well with the other ingredients, it becomes nasty little ice shards that disrupt the smooth sensation on the tongue. Rather than using the traditional egg yolk to bind water and fat in the frozen emulsion, Bauer relies on the proteins in milk—casein and whey. She boils the liquid to reduce its water content, concentrating and denaturing the proteins, rendering them more likely to bind the water and fat. Bauer's other tricks include adding cream cheese, which is high in casein proteins, and using thickeners, such as cornstarch, which absorb water and prevent crystallization, for added insurance. Her use of natural corn syrup in addition to granulated sugar is also key: Its glucose is not as sweet in flavor as sugar's sucrose, and it binds with water, which helps prevent icing, too.
Her basic formula is foolproof, and applies to all flavors, from nutty praline to good old-fashioned chocolate. No matter what kind of ice cream maker you use (see Ice Cream Unplugged), it turns out smooth, rich results. "That's the sexy part," says Bauer. "But you can't have that sizzle without mastering the unsexy stuff."
Learn Jeni's technique for making rich and creamy ice cream by following the step-by-step instructions in Ice Cream 101 »