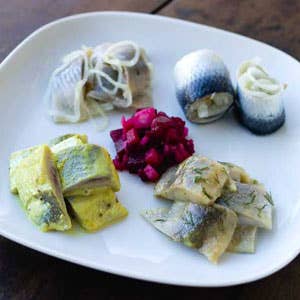 Techniques
Herring Fever
The first catch of the season provides a good excuse to celebrate this humble fish.
Until a few weeks ago, I had never tried herring—that silver, buttery fish from the Netherlands that's usually cured and served with sour cream and onions. But June kicks off herring season in Holland, and here in New York City, restaurants and hotels have been celebrating the new catch of the year, offering special dinners, tastings, and events to mark its arrival.
One such event was held on June 17 at the Roger Smith Hotel, a family-run establishment in midtown Manhattan. Ulrika Bengtsson, the hotel's restaurant director, and Niki Russ, one of the owners at Russ and Daughters, a century-old appetizing shop on the city's Lower East Side, partnered for the event, and it was clear why. (Niki: "Herring just melts in your mouth!" Ulrika: "It's the Cristal of seafood.") On that evening, guests sampled the new catch Dutch style, tipping back their heads to swallow the whole, raw fish (eating it unadorned allows the herring's mild, delicate flavor to come through) and a range of other herring preparations. Among the standouts were herring with mustard and dill (pictured, bottom right) and pickled herring with cream sauce and pickled onion (pictured, top left).
Gatherings like this have proliferated this year. The city's venerated restaurant Aquavit declared the third week of June "Herring Week" and loaded a buffet table with all manner of the fish, from curried herring to tomato sherry herring. And for much of June, the Grand Central Oyster Bar in New York City was decorated so that it resembled a Dutch street fair; fresh herring was served with chopped eggs, onions, and chives.
That is nothing compared with what goes on in Holland, where herring has its own national holiday, Vlaggetjesdag (Flag Day in Dutch). Since the 14th century, when the fisherman Willem Beuckelszoon began salt-curing the fish to nourish sailors on long trips around the Dutch colonial empire, residents of the Netherlands have considered it their patriotic duty to gorge themselves on the delicacy every year.
New-catch herring is prized because of its fine flavor but also because it's available for such a short time. During the winter months, herring in the North Sea lead an ascetic life. When spring arrives, though, the hungry fish indulge in a feeding frenzy, and once they've become good and plump the season has begun. On Vlaggetjestag, which fell on June 13 this year, the first cask of rich, fatty herring was ceremoniously presented to Queen Beatrix of the Netherlands for her approval. Soon after that, the fish started showing up on our shores. Luckily, Russ & Daughters is still selling new-catch herring and expects to have it in stock through July 31.