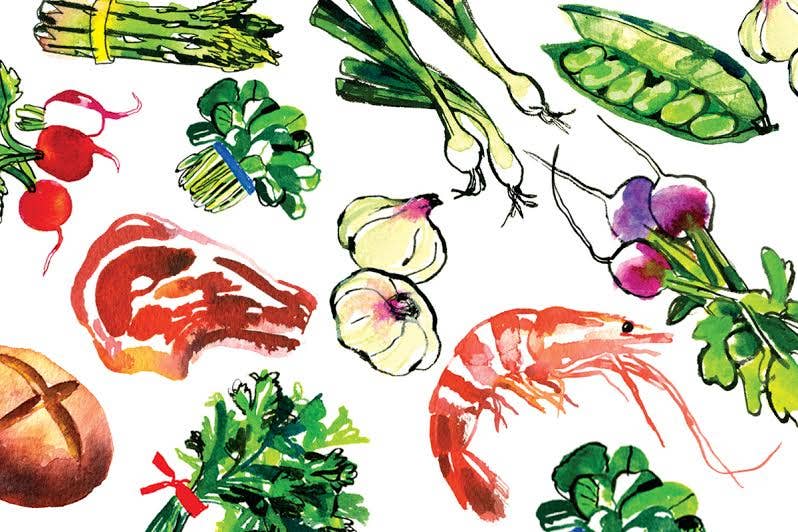 Seventeen years after his 12-year tenure as New York City's mayor, Edward I. Koch is only slightly less visible than he was as the city's chief executive. These days, he seems to be everywhere: working as a partner in the international law firm of Bryan Cave, appearing at book signings, parties, and political fund-raisers, or simply standing in line at the fish counter at Citarella, a specialty foods store. Given his high profile, Koch has little difficulty getting a table at any New York City restaurant he wants to dine at, but as often as not he chooses to spend his evenings in the kitchen, cooking for himself.
When Koch left office, in 1989, he moved out of Gracie Mansion (the city's official mayoral residence) and into a newly renovated Greenwich Village apartment with a long galley kitchen. With its standard Maytag stove and Frigidaire refrigerator, which is usually stuffed to the gills with favorites like fruit juices and Diet Coke, the kitchen is utilitarian rather than glamorous, but its wide counter and ample storage space make it eminently functional, and Koch has never felt compelled to change it. "It serves well," he says.
Though the kitchen is separated from the bank of large windows in the living room, it is nevertheless designed to take advantage of them: it has two open entryways, one near the front door and one near the refrigerator that allows for easy communication between the kitchen and Koch's rosewood dining table and chairs. Flanking each of these doorways are mementos from his time as mayor, including photographs of Hizzoner riding a camel during an official visit to Egypt and of his two audiences with Pope John Paul II. The kitchen itself, however, has been left almost completely unadorned; the only decorative items are a painted tile (from a visit to China in 1979) and a small blue clock next to the stove.
Koch's cooking, like his kitchen, is practical and unpretentious. Having long ago decided to cook mostly for himself (his dinner parties are catered by Mitchel London, formerly the chef at Gracie Mansion), he has the freedom to stick entirely to the foods that he loves to make. He began cooking on his own in 1956, when he first moved to the Village after completing law school at New York University, and though he grew up eating Jewish standbys like brisket and kishka, he has never tried to replicate his mother's dishes. "She was a terrible cook," he says matter-of-factly. He favors simple preparations and, over the years, has developed a repertoire of basic entrees—he eschews side dishes—that he can prepare quickly under the broiler: lamb chops, rib steaks with garlic, and salmon or swordfish seasoned with just salt and pepper. "If you're a bachelor, which I am, you have to learn on your own," he says. "I just do it naturally."
Those dishes have stood him in good stead, and two or three times a week, when he is not dining out, Koch can be found at home, standing at the broiler, tongs in hand. "I have a suggestion for the makers of stoves," he says, ever quick to suggest remedies for everyday ills. "It is stupid to have the broiler on the bottom. The broiler should be at the top."
While his meat or fish cooks, he usually pours himself a glass of sancerre or grape juice and makes an appetizer, eaten at the counter, of flatbread topped with taramosalata (a Greek spread of cured cod roe, lemon juice, and olive oil, to which he adds chopped onion) that he buys at a local supermarket. True to his bachelor ways, he dines in front of the TV in the living room, seemingly content on some evenings to watch the news instead of make it.