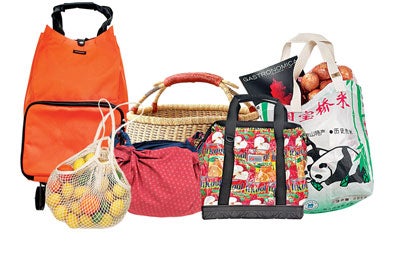 The netted cotton Ecobag ($8; www.reusablebags.com), a design based on a bag popular in Soviet-era Russia called an avoska, can hold up to 40 pounds of goods. When not in use, it compresses into a tiny ball, so you can always have it on hand.
Based on a design from Japan's Edo period (1603-1867), the Furoshiki (from $9; www.furoshiki.com), promoted by the Japanese government as an alternative to plastic, is tied using origami techniques, instructions for which come with the bag.
A New Orleans-based company makes the Its-laS-tik ($15; www.whatsurbag-usa.com), a strong and stretchy nylon-Lycra sack that comes in scores of vibrant colors and patterns and holds twice as much as a standard plastic shopping bag.
In southern India, grocery bags are commonly made out of long-lasting, eco-friendly jute. The Kasuthi Women's Empowerment Group, an Indian cooperative, handmakes the Jute Symphony Bag ($42; www.handmadeexpressions.net).
The Toocan Juicy Pannier ($85; www.detours.us) is made from recycled juice packs by a Filipino women's group. The insulated bicycle saddlebag can be detached and used as a shoulder bag. It holds—and keeps cold—15 pounds of perishables.
In 1992, Marybeth Shaw was an architecture student in Paris when she noticed women breaking baguettes in order to fit them into their totes. Her Sac a Baguette (from $299; www.sacabaguette.com) has a quiver for holding a full-length French loaf.
The Reisenthel Foldable Trolley ($25; www.reusablebags.com), a two-wheeled cart that holds as much as two standard grocery bags' worth of food, is popular throughout Europe. It folds into a small handled pouch for carrying.
The strong-walled Bolga Basket ($33; www.basketsfromafrica.com), which helps protect delicate items, is woven using veta vera grass, which grows in the semi-arid expanses of Ghana's Upper East Region. It's handmade by Ghana's Frafra tribe.
In China, a plastic-bag ban has popularized the use of the Recycled Rice Bag ($10; www.reusablebags.com). Made of flexible propylene, it can be folded and stashed until you're ready to deploy it. The bag will hold 88 pounds of groceries.