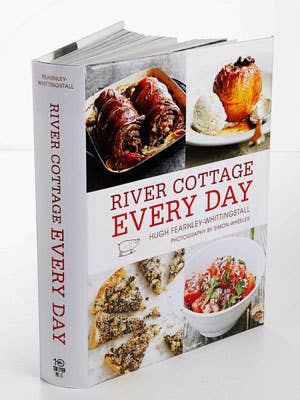 Culture
Home Truths: River Cottage Every Day Cookbook Review
Author of books for serious cooks pens a crowd-pleaser.
The past few years have delivered a library's worth of "quick-easy-thrifty" cookbooks. Global economic crisis will do that, and from Britain, where pulling your socks up in the face of austerity is a matter of patriotic pride, we have new books in this vein by Jamie Oliver (Jamie's 30-Minute Meals; Michael Joseph Ltd.), Nigella Lawson (Nigella Kitchen: Recipes from the Heart of the Home; Hyperion), and even the late Elizabeth David (At Elizabeth David's Table: Her Very Best Everyday Recipes; Ecco). A surprising one is River Cottage Every Day, an accessible collection of recipes from the farmer-cook Hugh Fearnley-Whittingstall, out this month in an American edition from Ten Speed Press.
Compare, for instance, Fearnley-Whittingstall's River Cottage Meat Book (Ten Speed Press, 2007), which opens with a photo essay depicting the slaughter, skinning, and sawing in half of a cow. The message: if you don't take the matter of where your food comes from seriously, this book isn't for you.River Cottage Every Day, by contrast, begins with a photo of the author scarfing honey-smeared bread and an introduction in which he confesses that as a child he refused to eat anything that "didn't come out of a Birds Eye package and get fried up and served with ketchup." He's saying that though he may have a posh last name, he understands how people really eat.
Still, he never misses an opportunity to remind readers that using the best ingredients is a matter of moral gravity. A recipe for kippers with smashed new potatoes begins, "Kippers are an honorable part of the proud fish-smoking tradition we have in the UK. If you choose properly smoked ones without dyes or artificial flavorings, I think you'll find this a wonderfully satisfying dish." And so it is: a smoky, parsley-flecked hash brightened with a last-minute squeeze of lemon juice. It's that sort of grace note that makes these recipes so appealing. Simple lentil soup becomes genuinely exciting with the addition of toasted caraway seeds and minted yogurt, while a lunch box (there's a chapter on these) assembled from leftover roast beef and lentils is pulled together with a gutsy mustard dressing. Fearnley-Whittingstall is, at heart, a philosopher, and these new recipes make a case for approaching daily cooking with intention—or, as he puts it, finding "things to savor and share that don't just fill us up, but make us feel good."
This article was first published in Saveur, Issue #136