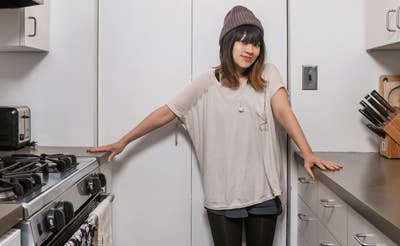 Culture
I Love My Kitchen Because: Miho Hatori
Food lovers know Miho Hatori as one half of Cibo Matto, the New York City-based band that took the '90s by storm with their food-themed, Japanese-inflected pop songs about white pepper ice cream and birthday cake. Miho reunited last year with her bandmate Yuka Honda for the second coming of Cibo Matto, complete with a mini-tour and, soon, a new album. A longtime resident
• The most special thing about my kitchen is probably the fish tank. It's a freshwater tank that Hassan, my boyfriend, designed. It's his hobby, but I feed them. We have one goby fish and he loves women. We call him "Haze" (ha-zeh); that's goby fish in Japanese. We have maybe 10 fish plus three shrimp. The cutest one has a red color on its back; one has red stripes; and the third one looks just like the tiny dried shrimp you see in Chinatown.
• I love my Japanese ginger grater. It has a beautiful design, vintage, from the '60s or 70s. This is super old school. I feel like it should be an object at MoMA.
• I'm getting into Chinese tea these days; for that, I use a kitchen thermometer to check the water temperature. For Japanese tea, the water should be 80-90 degrees; for some tea, like Chinese yellow tea, the water is 70 degrees, but with a longer steep.
• These days, my new favorite kitchen tool is this OXO large plastic spoon. Every morning, I make boiled eggs because I have low iron. If I put the egg into hot water, it breaks, and I hate that. I use the spoon to super gently lower the egg into the pot. I know it's a very normal object.
• This kitchen has a very Manhattan feeling, doesn't it? The rooms [in Manhattan] are smaller than in Brooklyn, so you try to have less clutter because there's no place to put things. We have to keep it clean; otherwise it becomes too messy. It's a completely different mindset from Brooklyn. There's a word, danshari, I'm really into; it's the theory of getting rid of clutter, make a space to breathe, and to have a new idea. It's three words: "to say no," "throwing out," and "letting go." This idea comes from yoga. I'm into it, Hassan is into it, and I gave the book to Yuka and now she's into it, too. It's a modern society problem. Moving into this Manhattan apartment pushed me to think that way more, getting rid of stuff I don't need to make space. The body and mind, too. When we eat too much, it's hard to do danshari for the body. When I think of it like that, this kitchen is perfect and challenging. I realize I don't need a lot of stuff. I have a lot of tools, pans, but I don't use half of them. It's fun to cook, of course, I always enjoy that. And home-cooked is the best.
Interview conducted and condensed by Ganda Suthivarakom