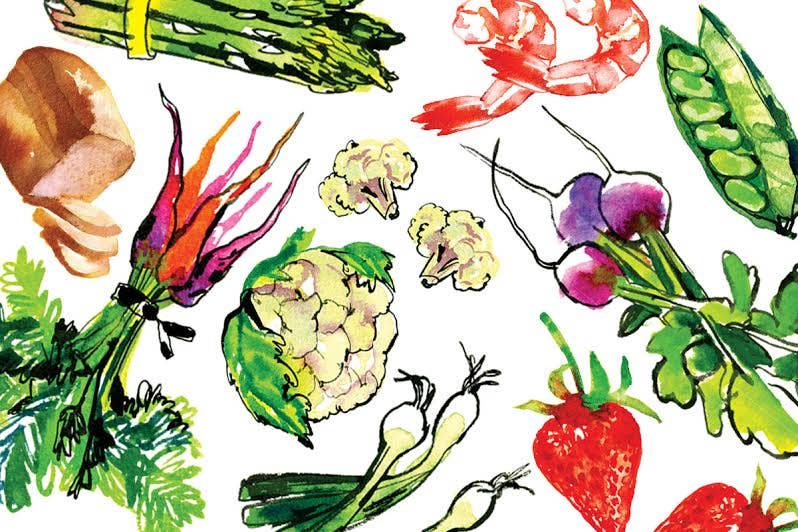 Culture
Idlis and Dosas
Two staples of Madras cuisine, two pancakes made from the same ingredients, two different ways to prepare them.
Two defining staples of the cuisine of Tamil Nadu are the steamed cakes called idlis and the crisp pancakes known as dosas. Both are made out of rice and split-pea batters. These two main ingredients are soaked and ground separately, then combined and left overnight to ferment, turning into a light, frothy batter. (With tropical temperatures set permanently at balmy, the region's cooks tend to use the climate as a God-given culinary tool. Fermentation takes place easily, tenderizing food, making it more digestible—and cutting down on cooking time.)
Once the protein-rich batter is ready, it can be poured into a stack of trays with round depressions for steaming the flying saucer-shaped idlis—or it can be fermented a bit more and made into dosas, the lightest of pancakes, golden-red on one side, pale cream on the other. Both may be eaten with sambar, a split-pea stew, which may be varied by the addition of such ingredients as caramelized shallots, tomatoes, okra, or eggplant poached in tamarind juice. Dosas are also sometimes eaten with coconut chutney. The dosa itself can be varied endlessly, too. Add tomatoes, onions, and green chiles to the pancake, and it turns into an utthappam. Roll it around spicy potatoes, and it becomes a masala dosa.