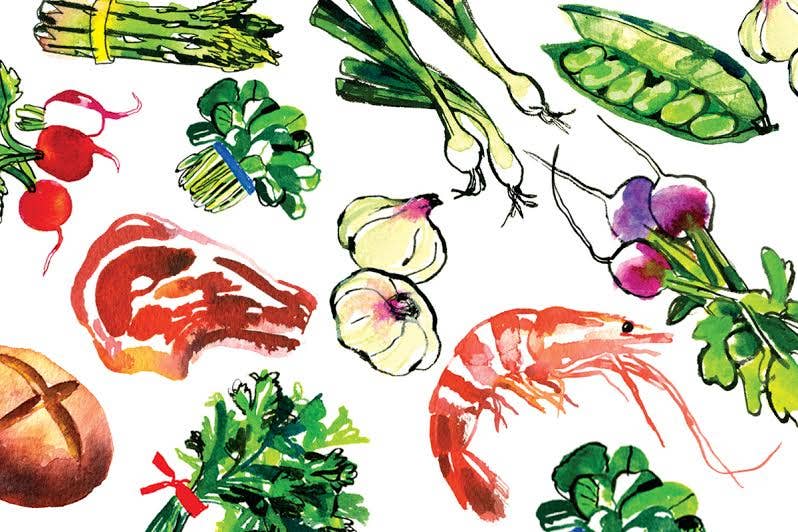 Culture
Ireland's Perfect Condiment
When bread—and potatoes—is the soul of your diet, rich, creamy, delicious butter isn't just a nicety; it's an essential condiment.
If Ireland doesn't have much of an indigenous cheese-making tradition, that may be at least in part because Irish butter is cheese—or as good as cheese, at any rate, as flavorful and rich and appealing and as amiable a companion to a piece of bread. To look at it another way, when bread—and potatoes—is the soul of your diet, butter isn't just a nicety; it's an essential condiment. One of Ireland's greatest natural resources is its grass, which grows fast and thick and full of nutrients in its damp but moderate climate—and especially in Munster, the southernmost province of the island, encompassing the counties of Kerry, Cork, Clare, Limerick, Tipperary, and Waterford. This grass is responsible for the quality of Ireland's famous beef and lamb and its superlative, almost definitive, milk and butter—the latter a substance, archeological discoveries have demonstrated, that has been made here for at least 2,000 years.
Munster's major port—and the largest port in Ireland after Dublin—is Cork City, and in the 18th century beef and butter were the most important commodities it shipped. Following a decline in the beef trade in the early 19th century, butter assumed even greater financial importance to the city. Highways constructed in part to help farmers transport butter from the hinterlands to Cork crisscrossed southern Ireland, giving the region one of Ireland's best networks of roads. The Cork Butter Exchange, founded in 1769, became the largest butter market in the world. By the mid-19th century, Cork was exporting about 30 million pounds of butter annually, not just to nearby England and Portugal but—heavily salted and sealed in barrels—to India, Australia, Brazil, the West Indies, Virginia, and Maryland.
In the late 19th century, the butter business faltered, owing to, among other things, the invention of margarine—that "roguish compound." as the Cork Examiner once called it. Around the same time, the invention of the mechanical separator and improvements in artificial refrigeration techniques made commercial butter production practical, and soon, instead of making butter at home, farmers were selling their milk to creameries or dairy cooperatives. The Irish butter business changed again in 1961, with the establishment of An Bord Bainne, the Irish Dairy Board, which consolidated many of the existing creameries into a single marketing entity and began selling butter worldwide under the Kerrygold brand. Today the Irish Dairy Board is Ireland's largest exporter of any kind, with sales in 90 countries approaching $2 billion annually.
Kerrygold butter is good stuff, dense, creamy, and delicious. But if everyday Irish butter is cheese, unpasteurized handmade farmhouse butter is foie gras—sheer indulgence, so rich and full of flavor that you almost want to eat it with a spoon. Such butter is, alas, a rarity in Ireland today. But our friend, Irish grocer Peter Ward, knows where to find it. He first took us to meet butter maker Barbara Harding, on her farm near Borrisokane, in County Tipperary, in 2002. We went back a few years later and were happy to discover that she's still at it.
Harding milks her dozen cows—British Friesians and Friesian-Montbeliardes (both produce milk particularly rich in butterfat)—morning and evening. The milk goes unpasteurized into a holding tank—if you pasteurized it, says Harding, the butter wouldn't have the proper texture, color, or flavor—and then into a separator, which separates the skim and the cream. The cream is very thick, sticky, clotted. "I let it sit for a day," says Harding, "sometimes two days, refrigerated if the weather is very warm." Next, she mixes the cream with ice water, three parts to one, and churns it with what looks like a large immersion mixer locked into a metal can (the mixture has to be one-quarter water, she says, or the beater won't turn). She drains off the buttermilk from a spigot on the side of the can, then opens the can and scoops out the butter. She squeezes as much water as she can out of it by hand, then spanks it into one-pound blocks with two wooden paddles (you can see the spray fly as more water is driven out). She makes about 30 pounds of butter most days, wrapping each block in waxed paper; Peter Ward and two other local shops sell it all.