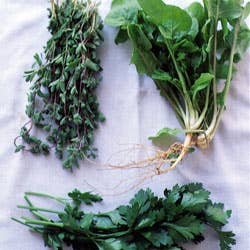 Culture
Is It Pesto Without Basil?
Basil may be the gold standard of pesto ingredients, but marjoram, arugula, and, yes, parsley, are perfectly acceptable substitutes.
The Genoese poet and playwright Vito Elio Petrucci, a founding member of the Confraternita del Pesto, writes in his book Profumi e sapori di Liguria (Silvio Bassile Editore, 1976), that when summer basil disappeared for the season every year and greenhouse basil began appearing in the markets at a higher price, his mother would exclaim of the merchants who were selling it, "Ahimemi! Son furti, son laddri!"—"Woe is me! They're thieves, they're robbers!"—and make pesto with parsley instead.
If Ligurians knew what some American chefs do with (or identify as) pesto, they would probably have a collective heart attack—cilantro and green chile pesto, indeed! But before the advent of greenhouse basil (which first became available year-round in the late 1920s), non-basil pestos were sometimes made in Liguria, especially in rural regions. It was simply a matter of adapting to the season. Not only parsley but marjoram (which is, with borage, a close runner-up to basil for herbal popularity in Liguria), arugula, and even baby Swiss chard leaves were used.
We've tasted arugula pesto, which is quite bitter and works much better in rich soups than on simple pastas, and we've discovered several recipes for pestos made with other herbs. One of these from the region of Castelnuovo Magra in eastern Liguria, adds marjoram and parsley to the basil, extending the traditional herb rather than replacing it. Another version, actually a pistou from Menton, just across the French border, uses only marjoram. Such sauces can be quite good, but they are rarities these days—far more likely to be encountered in cookbooks than in real life. In fact, when we asked a culinary historian from Castelnuovo about the mixed-herb pesto, he responded, in mild shock, "But we use only basil in our pesto. It's the best!"
That's hard to argue with—but with ancient Ligurian practices in mind, there's no reason why the American cook today shouldn't experiment with pestos made with other herbs. Parsley is an obvious one (though if you leave out the cheese and pine nuts and add a bit of vinegar, what you've got is salsa verde).