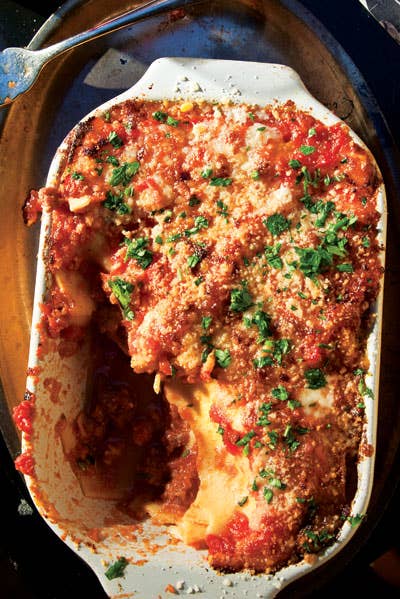 Lasagne is one of the crowning glories of the Italian-American table: a many-layered baked dish of pasta, sauce, meat, and molten cheese that comes together as a single, sumptuous whole. It's also one of Italy's oldest recipes: its name stems from the Greek laganon, the world's earliest form of pasta; in fact, those ancient sheets of dough went on to inspire the Greek version of lasagne, pastitsio.
When Italians emigrated to this country, they brought their own ways of making this special-occasion fare: Some added sausage, others ground beef, still others embellishments like hard boiled eggs and chicken livers. "We always had lasagne for Christmas, and we'd wait all year for it" says Albert di Meglio, the chef at Rubirosa in New York City. "My father would get fresh pasta from the store, and he'd make mini meatballs and layer them between the sheets and sauce." It's a similar style of lasagne to the kind that the family of Rubirosa's owner, Angelo Pappalardo, makes: not surprising considering that both families originally hail from Naples. When the two men started working in high-end New York restaurant kitchens in the 1990s, they made lots of lasagne, none of it the kind they grew up with.
"Nowadays, everyone serves the northern Italian style, with spinach pasta and besciamella," Pappalardo says. So when they opened Rubirosa, their families' lasagne went on the menu. It's a glorious thing, served in a casserole sized so that two people can share, with enough for delicious leftovers.