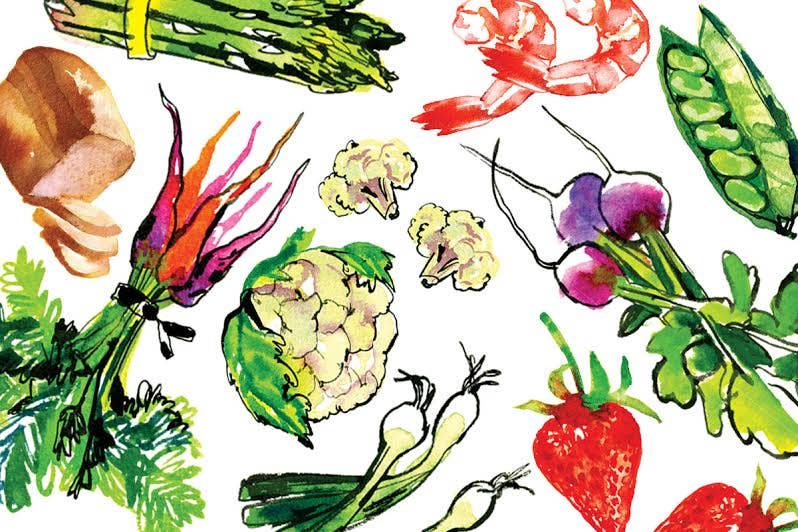 Culture
Kaiseki Modern: The Art of the Meal
Japan's most symbolic dinner starts at the world's largest seafood market and ends in a series of tiny, exquisite dishes.
Disorientation takes on a whole new meaning at Tsukiji, Tokyo's largest, Japan's largest—hell, the universe's largest—wholesale seafood market. I've been up since dawn, aswirl in a strange language, dodging crazed convoys of motorized carts and forklift trucks, chasing after chef Jun Takanashi, who, totally at home, trots confidently down shellfish alleys, strides across vast fishy warehouses, and splashes through ankle-deep puddles and streams of icy water to buy the seafood he will prepare for dinner tonight at the city's tiny Shion restaurant.
Tsukiji (pronounced tski-gee) is the epicenter of fishdom—57 acres of the undersea turned inside-out. Counters and stands and entire villages of Styrofoam boxes display over 450 kinds of sea creatures, some familiar, some unimaginable—like real descendants of the green-eyed sea dragons that populate Japanese folklore. There are snaky, needle-nosed yagara and slithery eels; spiny sea urchins and giant octopuses with tentacles as long as a man's arm. Every day, five million pounds of the stuff—$19 million worth—is sold by 11 a.m. There are 60,000 workers here, and looking at some of them, zipped into black rubber tunics, swathed in floor-length aprons, their T-shirts tight and their rough cotton pants smartly tucked into stiff black boots, I discover a kind of fishmarket chic—and I understand Issey Miyake for the first time.
Others might get this kind of rush in a jewelry store, but for me, the real flash is here, deep in Tsukiji's inner market, shining off the silvery sides of mackerel and sparkling in the rainbow spray of mammoth industrial washdown hoses.
Takanashi stops suddenly at the wholesaler Kamemoto Shten, we almost trip over a frozen, headless bluefin marked ''Boston'' (every day, fish arrive at Tsukiji from more than 60 countries around the world), but Takanashi is eyeing one of Ayabe's fresh specimens, a 6.5-kilo (14-plus-pound) meji-maguro, netted only hours ago in the cold waters of the Sea of Japan. Takanashi will pay about ¥1,400 a kilo (at ¥113 to the dollar, that's about $12.40 a kilo, or roughly $80 for the fish), then dole it out in minuscule slices of luxurious, red tuna sashimi for about ¥300 ($2.65) apiece.
Takanashi shops by sight and by touch. He chooses a large tara (Pacific cod), prized for its soft roe. It weighs 3.7 kilos and just yesterday was swimming off the coast of Japan's snowy mountainous island of Hokkaidshshmen stand, Shizunoya, one of many at the busy corner of Shinshsh (pepper leaf)—each container is unwrapped, then painstakingly rewrapped and returned to its place. It is a deliberate, parsimonious process that is so much in contrast to the way I blow into the kitchen and throw a meal together that it takes my breath away.
I return to Shion at 8 p.m. for dinner. ''When I serve customers at the counter,'' Takanashi explains as he leads me to my seat, ''I can anticipate their physical and mental states and see if they are happy or not. Remember, kaiseki is about hospitality.'' First comes sakizuke, the appetizer, a steamed persimmon, deeply sweet, in a gutsy pottery bowl. Next, chinmi, another appetizer—a plate of cold ginkgo nut and awabu ''salad'' with that whipped tofu dressing. For wanmori, traditionally the heart of the kaiseki progression, the soft cod roe is set with kuzu (an arrowrootlike thickener), pressed into a cube, and set afloat in ichiban-dashi in a red lacquer bowl. Mukzuke, the sashimi trio, follows: subtle tuna, sheer flounder, and slippery squid, the freshest I've ever tasted.
After this course, every dish is cooked. The takiawase (simmered), is a cube of tofu, a lone shiitake mushroom, a nest of hijiki seaweed, and taro, in a pool of mushroom dashi. The mushimono (steamed) is a single oyster cloaked in rich tortoiseshell-colored sauce; the yakimono (grilled) is half a crisp amadai on a long, handmade plate; the sunomono (vinegared) is three neat bites of wakame-wrapped crab, dotted with half a dozen jewellike salmon eggs. We finish with the tomewan, tome literally means ''stop''—rice with dried anchovies accompanied by miso soup and a dish of pickled Chinese cabbage and konbu (the ''recycled'' seaweed from dashi).
Takanashi serves each dish, and observes my reactions for almost two hours. The presentation is flawless; the flavors are dazzling. This is sake-drinking food, and I drink lots of it. I begin to think: ''I could make food like this. I could have plates like these.'' I dreamily envision my own kaiseki progression. Yes, but perhaps it's the sake.