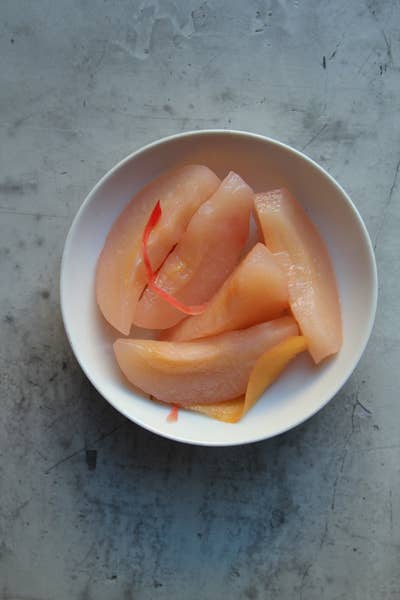 Culture
Make Now, Eat Later: Pickled Asian Pears
Sometimes a recipe tastes even better when you have to wait to enjoy it. In this column, we explore the best things to "put up" for later gratification each month.
The first time I'd ever seen a nashi—the Japanese word for Asian pear—I was living in Japan, and I was totally impressed. Their skin is a mottled amber hue, and they can grow to be ginormous; the size of a junior basketball at their best. The nashi, along with mega-melons, pristine grapes, and picture-perfect peaches, are also among some of the most popular gift fruit in Japan, fetching a price tag that we're more accustomed to paying for a dinner for two.
I now live in Northern California, where I'm fortunate enough to find Asian pears at Japanese and Chinese markets and at some farmers markets in the fall, and they still get me excited. This fruit has a lot to love: a boatload of sweet juice, a crisp and slightly sandy jicama-like texture, and a delicate flavor that plays nicely in a plethora of possibilities. It's easy enough to peel, slice, and share after a meal to cleanse and refresh the palate. But naturally, as a food preservation enthusiast and Portlandia watcher, I had to ask, "Can I pickle that?"
Answer: You betcha! And with exquisite results. After brining, the natural sandiness of the fruit actually smoothes out and becomes meaty, while the brightness of vinegar, pickled ginger, and lemon provide a potent, refreshing punch. Are you thinking cocktails? Me, too. As well as alongside blue cheese, arugula, fatty cured meats—or anywhere else a vibrant, refreshing bite is needed and welcome.