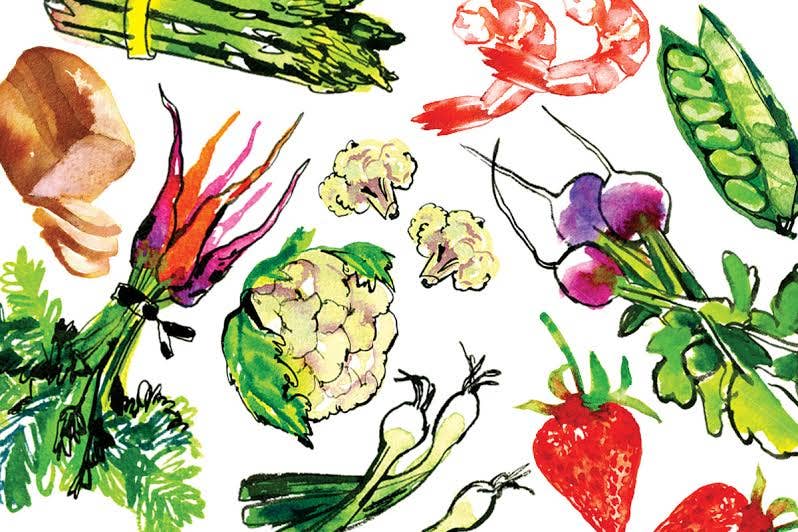 Culture
King of Sauces
What, exactly, transforms cooked, chilled shrimp into a cocktail? The answer: the sauce.
American appetizer par excellence, the shrimp cocktail is the first thing a lot of us think of when we hear the phrase "hors d'oeuvre". But what, exactly, transforms cooked, chilled shrimp into a cocktail? The answer: the sauce. What most people don't realize is that the tangy mixture of tableside condiments—usually ketchup, worcestershire sauce, Tabasco sauce, prepared horseradish, and lemon juice—started out as an accompaniment not for shrimp but for oysters, which were once consumed in abundance, much as shrimp are today.
As far as can be discerned from the scant scholarship on the subject, cocktail sauce as we know it was born in the saloons of gold rush-era San Francisco, where hungry forty-niners mixed their oysters on the half shell with tomato ketchup. It isn't known precisely when the other ingredients joined the mix, but since most of them were common items on barroom tables at the time, it probably didn't take long. By the late 1800s, the oyster cocktail—shelled oysters lolling in what ultimately became known as "cocktail sauce"—had become a standard fixture on bar and restaurant menus in the West. Hermann Oelrichs, a Gilded Age businessman who had married the daughter of a Californian mining magnate, eventually brought the recipe to New York City's Manhattan Club, whence it spread to become a standby in the city's men's clubs.
As the 19th century waned, the cocktail gradually became more widely known and more genteel, often served in dainty glassware as the first course at society galas. Along the way, people began to pair the sauce with other protein-rich foods, including crab, lobster, ham, and, of course, shrimp. During the first half of the 20th century, as oyster beds were depleted and—thanks to advances in fishing and refrigeration—shrimp became more widely available, the sauce came to be definitively associated with our country's best-loved crustacean.