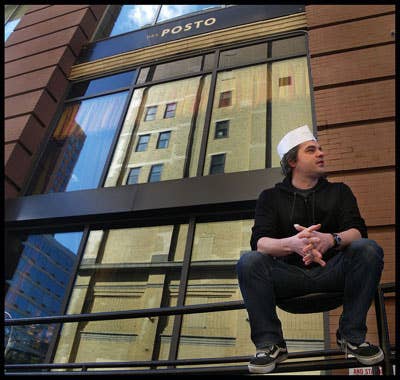 Culture
Kitchen Punks
The road from rocker to chef turns out to be a surprisingly well-traveled one.
Brooks Headley, executive pastry chef at Mario Batali's four-star Manhattan restaurant Del Posto, has just arrived at my table with the second of seven dessert courses. This one is his interpretation of the classic Amalfi dish melanzane e cioccolato: like a sweet negative of savory eggplant parmigiano, the dish crowns thin, crispy slices of eggplant with a dollop of stracciatella gelato made with sheep's milk and a drizzle of a chocolate and olive oil sauce which Headley describes to me as his "F-you to chocolate sauce everywhere."
The courses to come would consist of such rarified ingredients as Valencia orange zest from California's Polito Family Farms and Capezzana 2010 extra virgin olive oil, all served within Del Posto's atmosphere of studied Italian reverence and pre-recession pomp. It's certainly a long way to come from performing in basements and taunting skinheads.
Well before Headley came to the attention of Batali — or of New York Times restaurant critic Sam Sifton, who named his sfera di caprino the best dessert of 2010 — he was better known for sitting behind the drum kit of several 90s hardcore punk bands, most notably the sonically abrasive, politically cynical Born Against. That a group who once performed a song called "Well Fed Fuck" should produce such a well-regarded pastry chef seems, at the very least, improbable. That he's not alone speaks to the unexpected—yet analogous—common ground between the worlds of food and punk.
"For the same reason you reject Top 40 and make your own music, you reject McDonald's and make your own food," hypothesizes Isa Chandra Moskowitz, vegan cookbook author and host of the underground cooking show Post Punk Kitchen. She suggests that there's something immediately recognizable in the world of food to anyone familiar with punk: a desire for personal expression, unrestrained creativity, disdain for orthodoxy, and the need to connect with an audience. They're all reasons to pick up a guitar; for many punks, they later become a reason to pick up a pastry knife. And a surprising number of them do.
DISCUSSING THE COMMUNITY of punk gastronomes with Headley over email, he asked me to "let Greg Norton know he has always been a true inspiration in this weird lifestyle switcheroo." Norton was the bassist for St. Paul, Minnesota's Husker Du, which provided a bridge from 80's punk to the 90s "alternative" sound — singer Bob Mould was originally approached to produce Nirvana's Nevermind. After major label flirtations (and a few substance abuse issues), Husker Du disbanded in 1988.
"When the band broke up I just naturally found myself gravitating back into the restaurant business," Norton told me. Before the band, he'd waited tables for a local Italian restaurant. After '88, he followed Twin Cities chef Lenny Russo through several kitchens, gaining an aptitude for cooking and building wine lists. At one point, he flew to London to work under chef Gary Rhodes. "I always kind of looked at the similarities between playing in rock band — going out playing live, playing your set — as comparable to working in a kitchen, where your menu is your set-list and you're performing for people," Norton says.
In 2003, he left the kitchen he'd been running in Red Wing, taking his sous chef (and wife) Sarah with him to open The Norton's. The restaurant quickly became known for its Rhone-heavy wine list, which garnered several awards, and for being home to a growing local legend. "At lunch I'd have a group of old ladies in there," Norton recalls. He launches into a quavering grandma voice, "One would say, 'What was the name of that band you were in? Husker Du? Oh yeah, I knew that.'"
Norton mentions that Husker Du drummer Grant Hart "was quoted once as saying, 'Greg's restaurant is to independent restaurants what Husker Du was to independent music.'" Norton laughs. "At the time I said, what's that mean? That my restaurant is more hardcore than some restaurants?"
BEING HARDCORE CAN BE A VIRTUE in the culinary world. "[Punk] kept me from being intimidated by people who were trying to close doors, in terms of who could be a cheese expert," says Gordon Edgar, who sometimes goes by his "cheese name," Gordon Zola. "That just rolled off my back." It also provided another apt skill for a self-taught cheesemonger, who prides himself on having "a low tolerance for bullshit, which is a prized trait in the punk scene."
From his position behind the counter at San Francisco's Rainbow Grocery Cooperative, Edgar has combined the two loves of his life: punk rock and cheese, with the former leading him to the latter. After a juvenile arrest during a "Rock Against Reagan" concert in the mid-1980's, Edgar found himself drawn both to bands like the Dead Kennedys and volunteer-run, punk community organizations. When Rainbow, one of the country's largest retail worker-owned cooperatives, needed someone in their cheese department, Edgar's decision to apply was inspired more by the store's politics than its fromage. But as he details in Cheesemonger: A Life on the Wedge (his combination memoir, guidebook, and social commentary on a decade and a half in dairy), punk provided the framework, and the ethics, for a successful career in cheese.
Now a board member of the California Artisan Cheese Guild, competition judge, and locally recognized "cheese guy," Edgar wears his past proudly on his sleeve. "As we minded our own business," he writes of his first cheese conference, "with our leather jackets and freshly dyed hair, all of a sudden someone slammed into us yelling, 'Let's start a [mosh] pit!' It was a cheesemaker from an established Sonoma County cheese company who used to run a Santa Rosa punk label. We are everywhere."
"I THINK THE POLITICS OF FOOD were always really appealing to me," says Warren Oakes, former drummer for 1990's punk superstars Against Me! As teenager in central Florida, Oakes became involved with local chapters of the Food Not Bombs anti-hunger collective (punk's charity of choice at the time). A passionate vegan during the time his band was playing Conan and Letterman and landing on Rolling Stone "best of" lists, Oakes provided a statement of purpose for dumpster-diving fans of leftovers everywhere with the publication of his 2000 "Why Freegan?" 'zine. "Freeganism," he wrote, "also known as ethical eating, voluntary simplicity, monetary minimalism, the ultimate boycott, etc. is fun and easy."
What wasn't fun or easy for Oakes was watching his band-mates dig into fresh, local chorizo while he ordered the "traveling vegan special" (French fries) yet again. On tour in Spain with Against Me!, Oakes suddenly viewed his abstinence from experiencing a broader culinary world as a mistake. "I just felt like I didn't want to take anybody's word for anything," he says about his abandoned dogmatism; once back home in Gainesville, Oakes worked on his food blogging, and began to ponder what life would be like after the band.
In the summer of 2009, Oakes left Against Me! to open Boca Fiesta, a Mexican restaurant in Gainseville located in a former punk performance space. Serving both tempeh and a rotating "Weird Meat of the Month" (including snapping turtle, Russian caviar, and kangaroo), Oakes sees Boca Fiesta as the logical, if not linear, next step following his musical career. "It's a direct parallel [to being in a band]," he says. "A lot of our crew are musicians, from that same scene, and there is that ability to collaborate on something bigger than yourself that I think bands are familiar with."
BACK AT DEL POSTO, Headley is leading me past a formal dessert station in the main dining room, dubbed "cookie land" by the staff, and into the bowels of the labyrinthine kitchen. Arriving at his pastry fiefdom, he motions to his LY18C-20000 ice cream machine with a kind of pride typically reserved for vintage automobiles. It's not a new passion: After college, facing bleak job prospects, no band, and a fed-up girlfriend, Headley responded to an ad for a pastry assistant position. He showed up with a falsified resume and a suit, both of which were, in hindsight, poor choices. As the pastry chef toured him around his first professional kitchen, feeding him caramelized hazelnuts along the way, Headley says "this little light blub went off that I'm going to be doing this for the rest of my life."
Inspired, Headley did his homework, squatting at a local bookstore to study cookbooks, baking bread on his mornings off, and figuring out the real spelling of what he heard as "crem-on-glaze." "I was instantly thrown into this subculture that wasn't anything like being in a punk band and on tour," he says. "But it was sort of, because it took up your whole life and you didn't make any money."
In Headley's brand of internal food logic, everything relates back to punk rock. Watching the pioneering PBS cooking show Great Chefs in the early 90s was "primitive," like stumbling onto the work of Wire, a group of 1970's art punks. When he heard that Claudia Fleming was putting out a cookbook of her Gramercy Tavern desserts, tracking it down was like ordering the right record from punk fan 'zine Maximum Rock'n'Roll. And buying locally-sourced peaches is an expression of artistic integrity, like going to see a show by beloved DC band Fugazi.
I ask Headley how all of this is conveyed on the plate, how the distillation of his punk experience now expresses itself in a four-star restaurant's dessert course. The answer demonstrates that for people like Headley, creating sounds and creating flavors are one and the same. "[By] making the food as honest and pure and true, not manipulating it too much," he says. "Really presenting it in the most direct, delicious way. Like a Fugazi or Shellac song, present it simply… but have all the components be so awesome."
Michael B. Dougherty is a NYC-based freelance writer whose work has appeared in various food, travel and lifestyle publications. He still fondly remembers his first mix-tape of Born Against, Helmet, and Clutch from high school.