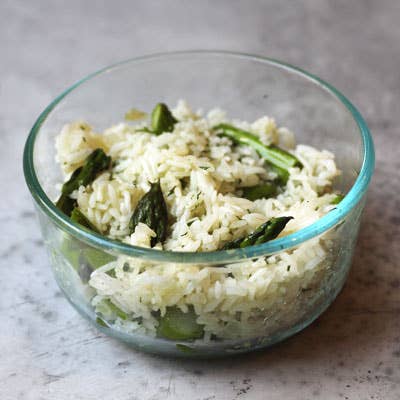 Culture
Kitchen Salvage: An Asparagus and Rice Sauté
Kitchen disasters happen to the best of us, even here in the SAVEUR test kitchen. Last week, there occurred what we're now calling a rice malfunction. That's right: we botched rice, the simplest (but possibly most important) part of the meal.
The test kitchen interns were prepping lunch for the editorial staff, who were gathered around the conference table for a big meeting. Excited about the chance to show off to our colleagues, we had planned our menu down to the last detail: the crisp endive salad, the colorful heirloom tomato bruschetta, and the delectable salmon cakes that were to be accompanied by fluffy white rice. We'll forgo names to protect the innocent, but a half hour before the meal, someone opened the rice cooker only to discover a mass of undercooked, barely-seasoned rice that was crunchy and bland — not something that we wanted to serve to anyone.
But we're a test kitchen, after all, so we went into emergency triage mode. Down came a wok from the depths of a cabinet. Out came the asparagus we'd blanched earlier with plans to serve it as another side dish. Someone pulled fresh dill from an herb drawer in the fridge. We chopped up a large onion and a couple of garlic cloves. We sauteed our hearts out, and rescued the undercooked rice, turning it into a spring-inspired, herby side dish that turned out to be the most successful dish of the meal. It was a lovely plate of food, but also a perfect illustration of an important lesson: Everyone makes mistakes in the kitchen; what makes you a good cook is how you recover from them.