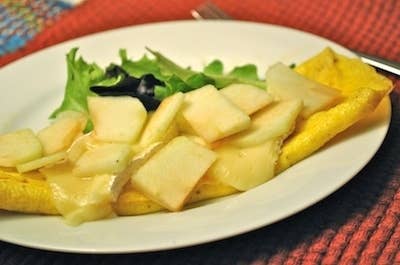 Culture
Learning to Make an Omelette
Breakfast-in-bed was a long-standing Mother's Day tradition in my childhood household. For one day in the year, my mom wouldn't get up at 6 a.m. to make coffee and read the paper in the kitchen; instead, she'd relax in bed with her beloved sci-fi novels while her three children wreaked havoc over the stove in the course of preparing standard breakfast fare. Our culinary aspirations were pretty low: we cut up some fresh fruit, poured some orange juice, whipped up some Bisquick biscuits, and attempted to make an omelette. It seemed almost impossible to mess up, except that whenever it came down to actually cooking the eggs, we failed miserably.
The dependable Joy of Cooking was our go-to guide for the basic omelette recipe. After devising creative fillings out of whatever cheese and vegetables we found in the refrigerator, year after year we cooked the eggs on medium heat until they were as solid as a pancake. And year after year when my mom received spongy, overcooked omelettes, she kissed us and smiled, and — like any good mother — pretended that the meal was delicious.
A few years after I had moved out of the house and stopped preparing Mother's Day breakfast, I stumbled upon an old episode of The French Chef with Julia Child that showed the grand dame teaching viewers how to make a classic French scrambled omelette. "What makes the perfect omelet?" Julia asks with her characteristic sweeping hand gestures a few minutes into the show. "Well it's how fast you do it! An omelette takes twenty seconds to do, is all." Julia's streamlined process was captivating: she ladles her thin egg mixture into a sizzling pan, jiggling it to loosen the eggs from the bottom; when the omelette starts to bubble, she moves the pan back and forth on the stove until the omelette folds in on itself and then slides the whole thing onto a plate.
Since watching the video, I have tried to master the manual dexterity needed to produce Julia's thin, barely runny omelettes. It's harder than she makes it look — I finally turned to an illustrated guide in a copy of Mastering the Art of French Cooking and learned some tricks, like keeping a firm wrist so that your shakes remain vigorous, and having the filling handy so that your eggs don't toughen up while you reach for it.
This Mother's Day, I'm reclaiming my family's breakfast-in-bed tradition. Highly practiced in the art of pan agitation and armed with an arsenal of Julia-inspired tricks, I can finally give my mom the omelette that she deserves.