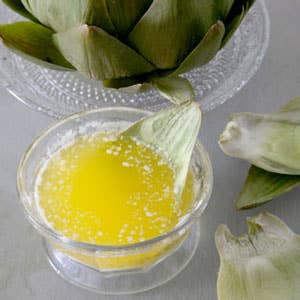 Culture
Made for Each Other
Here are nine beloved butter pairings that we think bring the ingredient's great taste to the fore.
1. Methodically eating a steamed artichoke, dunking one leaf after another in melted butter and then scraping away the tender flesh with our teeth, is one of our favorite ways to celebrate spring; the butter complements the vegetable's earthiness and tames its astringency.
2. Saucisson sec (or salami) and butter on a baguette, a bistro snack in France, is a revelatory combination for those unaccustomed to pairing butter with cured meat; the butter softens the meat's sharp flavors and adds another delicious dimension.
3. Take one bite of a French breakfast radish spread with butter and dipped in salt, and you'll be hooked. The butter's creaminess tempers the radish's peppery, astringent bite.
4. A steaming-hot baked acorn squash becomes a natural bowl for melted butter, which soaks into the squash's flesh. A sprinkle of brown sugar heightens the effect.
5. Sure, a drizzle of olive oil in your spring pea soup is swell, but when it comes to this bright-flavored dish, we think a pat of butter is even better; it gives the soup a rich, rounded texture.
6. Nothing satisfies quite like a generous smear of butter on a plain old saltine cracker; it's no-frills bliss.
7. In the Netherlands and Indonesia (formerly a Dutch colony), white bread with butter and chocolate sprinkles is a favorite breakfast treat. The combination calls to mind a deconstructed pain au chocolat.
8. Woodsy-tasting morel mushrooms soak up butter like little sponges when the two ingredients are united in a saute pan. The mushrooms, in turn, release their juices in a deeply flavored sauce.
9. Few dishes express the understated refinement of Italian cookery better than spaghetti with butter, grated parmigiano-reggiano, and black pepper; butter bridges the nutty-tasting cheese and the pepper's heat to create a whole greater than the sum of its parts.