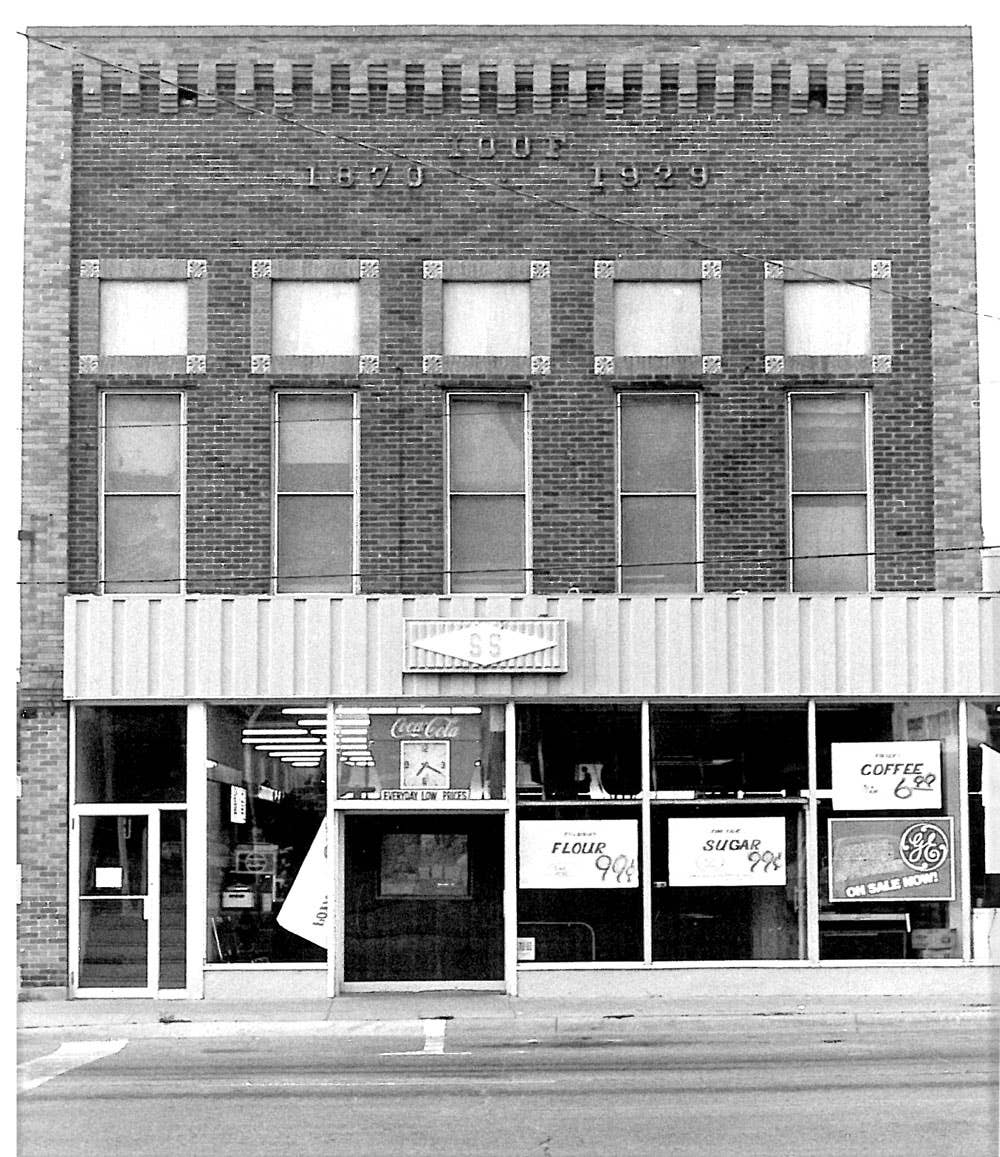 Culture
Market Days
A childhood spent in a small-town Kansas store brings big-time lessons
As a San Francisco restaurant critic who gets to evaluate some of the world's best food, I'm often lulled into thinking I've moved away from my Midwestern heritage. Yet my past came flooding back when a waitress at an upscale Berkeley restaurant served me a crock of pimiento cheese spread. One bite and I was back in Chanute, Kansas, standing behind the counter inside the Self Service Supermarket where my father, Gaylord Bauer, opened Bauer's Meat Market in the mid-1940s. I recalled the ruby lipstick of the woman who came each Thursday and flirted with him; the man who would buy a pound of hamburger and eat it raw from the package; my "old maid" English teacher, a friend of my father, who didn't bother to pardon her French in their conversations.
In those days I was the one making pimiento cheese spread. My father reserved the ends of the American cheese he sliced, and I'd grind them along with some just-outdated packaged cheese (probably Kraft), canned pimientos, and mayonnaise. This was the 1960s, when nothing went to waste, and our customers didn't seem to mind.
I've since realized that Dad's pride in his work—using every last scrap of beef in his chili, hand slicing cold cuts, delivering meat to most of the restaurants in our town of 10,000 or so—gave me the foundation for what I do now. People think of Kansas as a culinary wasteland, but the Sunflower State was where I learned culinary devotion.
It's true that there wasn't much ethnic diversity. If we wanted Chinese food, we'd have to drive 40 miles for it. But Chanute did boast what I believe was the only Mexican restaurant in southeast Kansas back then, La Rosa de Oro, and one summer delivering meat, I got to know the cooks and asked them about one of my favorite dishes, chile con queso. They showed me how to make it—the secret was in whipping the ingredients together—and I was able to reproduce it at the store. It soon outsold the pimiento cheese spread.
We ended up eating at La Rosa at least once a week because my father believed that you should patronize those who patronize you. As such, we were out every night. Instead of salmon cornets from the French Laundry, it was more like fried chicken from the Orchid Buffet, but those meals functioned like Ph.D. training for what I do today.
It was a shock when my father retired in 1978. He was only 62 and used to working ten hours a day, six days a week. He wasn't burned out—he was disgusted. The last regional slaughterhouse decided to ship only boxed beef rather than the sides he aged in the cooler.
That was the 1970s, when "progress" crushed the small guy and celebrated the corporations. Bigger was always better. He weathered the 1973 retail price freeze imposed by President Nixon, where he lost money on just about everything he sold, but he couldn't abide selling meat that didn't make him proud. So he stopped altogether and offered me the business.
At the time I was a feature writer at the Kansas City Star, and I declined. "You're smart," he said. "Never get into the food business. You work long hours and the profits are minuscule."
My father spent the next 25 years of his retirement refinishing furniture, visiting his four children, and doing most of the cooking. Every time I went home he would grill chicken and steaks, and at Christmas he always made fudge, date nut rolls, and other candies. Watching him measure out the flour and pound down the dried fruit, I saw the same man who had meticulously taken care of his meat market. The work ethic was still there.
My mind lingered on these images of him, busy in his store, busy at home, as I finished off that first course in the restaurant in Berkeley. It's been decades since I picked up my last meat cleaver, but given my roots, I continue to appreciate a humble crock of pimiento cheese spread, whether made from artisanal local cheese or from those castaways at my father's store.