Merguez from 3-Corner Field Farm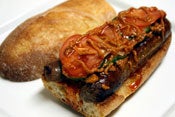 Few farms in the country feature as many offerings from one animal than 3-Corner Field Farm, which is spread along New York State's Battenkill River Valley, about three hours north of New York City. Selling some of the best sausages in the state, this two-family farm raises sheep that are pastured on natural grass and that also produce a variety of gourmet cheese and yogurt, yarn, lambskins, wool, and top-notch meat that's favored by many restaurants in New York, including Gramercy Tavern, Craft, and Jimmy's No. 43. "It's not just about making one thing or one aspect of what the agriculture can produce," said Karen Weinberg, who tends the herd with her husband and two children.
Summer's a great time for grilling 3-Corner Farm's sausages. Try the spicy merguez, a traditional North African lamb sausage, on French bread for an uncommonly good grinder, or cut them up for kebabs with fresh veggies and serve them alongside some harissa for dipping.