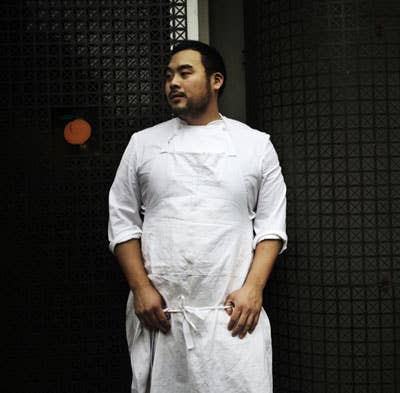 Culture
Momofuku Madness
The celebrity chef David Chang reveals the inspiration for his recent cookbook, his favorite New York City haunts, and more.
Just when you thought the culinary superstar David Chang could do no more (he's the chef and owner of Momofuku Noodle Bar, Ssam Bar, Ko, and Milk Bar, with a fifth restaurant scheduled to open soon), he's teamed up with the food writer Peter Meehan to publish Momofuku _(Clarkson Potter, 2009), equal parts cookbook, memoir, scrapbook, and behind-the-scenes look at Chang's unexpected rise to success over the past six years. As casual and punk rock as his restaurants (the book is packed with four-letter words), _Momofuku shares Chang's most coveted recipes—fragrant ramen, steamed pork buns—as well as beginner-friendly instructions for making kimchi. Recently, SAVEUR chatted with Chang about everything from his Michelin stars to his plans for expanding beyond New York City.
The story of Momofuku has already been told many times before. What made you decide to write this book?
We wanted to tell our side of the story. There are certain things that we would have liked to include, but they would have made the book completely inappropriate. If it were just up to [coauthor] Peter Meehan and me, it would probably be in hieroglyphics. In the end, this is just a crazy story and an example of how truth is sometimes stranger than fiction.
Describe the process for writing the book. Was it very collaborative?
Yeah, everyone in the restaurant helped out. Peter was basically a fly on the wall. It ended up being a really organic process.
What was the hardest part about adapting restaurant recipes to make them manageable for the home cook?
Scaling them down was difficult. We had to send the recipes to a bunch of people to try first, to make sure we weren't totally off our rockers. At times, I was like, "Who's really going to cook this way?"
So, which of your recipes are the most accessible for home cooks?
All the kimchi ones. We could have done a whole book just on pickles.
You seem to draw a lot of inspiration from foods you ate as a child, like rice cakes and ramen. What's that all about?
To think about food you need to have the eyes of a child; that way, everything is constantly new. The concept of tapping into nostalgia is definitely common among chefs. Heston Blumenthal of the Fat Duck in the UK is trying to re-create the experience of being a kid in a candy store, and many of Thomas Keller's of the French Laundry in Napa Valley dishes are derived from certain childhood comfort foods. For me, Juan Mari Arzak of Arzak in San Sebastian, Spain makes food that's the most reminiscent of childhood experiences.
But you also balance that with a new and original approach.
I don't think we've done anything new. We're not like wd-50 Wylie Dufresne's cutting-edge New York City restaurant or Ferran Adria owner of El Bulli in Spain and high priest of molecular gastronomy. I can't remember what director said, "Every scene's been shot; we just have to shoot it better." I feel that way about cooking. Everything has already been done; we just have to do it a little bit better.
Have you had any especially memorable meals recently?
In America, Ubuntu in Napa; Coi in San Francisco; and the French Laundry before Corey Lee, the chef de cuisine, left. In Europe, Noma in Copenhagen; St. John; in London; and Le Chateaubriand in Paris.
Any recommendations for cheap eats in New York City?
I always to stick to the Grand Sichuan restaurants. That's pretty much it. I don't really go out that much.
What's your average day like?
It's never the same. Some days I'm in meetings all day; some days I'm in the kitchen. It's whatever it needs to be. Part of my job is learning to delegate as we get larger. I wish I could just be in the kitchen all day long. I'm burnt out. I'm sure when I get older, I'll look back and think, "I should have enjoyed it more." I'm trying to, but I also have to chill out a bit.
How has earning a Michelin star changed your perspective?
That was the biggest shock of my life. It's a terrifying thing. It's an honor. I never thought in my wildest dreams that we would have one, let alone two. Now, we obviously don't want to lose the stars, but we don't want to coast because of them either. We want to get better. Every day we want to get better.
Now that the book is done, are you thinking about opening a restaurant outside of New York City?
We haven't found the right spot yet, but we're looking.
What cities are you considering? Vegas? Los Angeles?
Could be, could be New York. Could be Hoboken. Could be St. Louis, Missouri. Who knows?