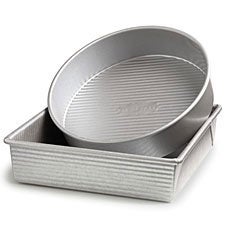 I'm not usually a fan of nonstick baking pans, but I recently bought an 8-inch square version from USA Pans' eco-friendly American Pan line, sold at King Arthur Flour's website. I was reeled in by some of the site's brilliant copy, such as: "We thought it wouldn't work as suggested—it did!"
And they were right. These solid pans are made from aluminized steel (65 percent of which is recycled), with rolled edges that make them easy to grip and internal steel wires for added strength. The pans feature Americoat, a proprietary silicone coating that is environmentally friendly and nontoxic (no PTFEs, aka Teflon, or PFOAs). They also have a corrugated surface that helps air circulate around baked goods for better browning, more even baking, and easier release.
King Arthur Flour sells 9-inch square pans, 8- and 9-inch round pans, and pie pans from the American Pan line as well, and they're better priced than some comparable nonstick-coated pans. While you're visiting this site, check out the Bakers' Banter blog, which contains excellent, well-illustrated recipes from the company's test kitchen. Don't miss the bloggers' recent Snack Cake Smackdown featuring inspired re-creations of Hostess Twinkies (posted September 23, 2009), Choco-Bliss (September 25), and the like.