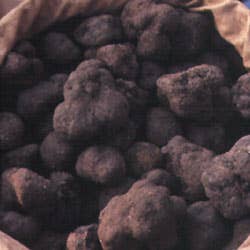 Culture
Other Truffles
The white and black truffles of Italy and France are a gourmet delight, but you may also encounter these lesser cousins.
SUMMER OR ENGLISH TRUFFLES (Tuber aestivum): Similar in appearance to black truffles, but far less intense and complex in flavor and aroma. Much cheaper than black truffles, they're often sold under that name in the U.S. (which is misleading).
NORCIA TRUFFLES (Tuber melanosporum): These are from around the town of Norcia in Umbria. They lack the character of French black truffles, but are considered the best black ones in Italy.
AMERICAN TRUFFLES (Tuber gibbosum): There are several species in America, but the only one sold commercially is the so-called Oregon white truffle. These are found under evergreen trees along the northern California and southern Oregon coast. Their flavor is piney and gaseous when young, growing stronger with age.
TRUFFLE-FLAVORED PRODUCTS: Very few of these—oils, pastes, butters, pastas—have true truffle flavor, apparently because most are made with inferior species. The most successful of these products are probably oils scented with white truffles, though even these vary widely in quality, and you're better off making your own.