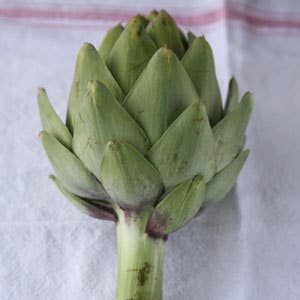 Culture
Packaged, Naturally
Ready-to-use hearts from locally grown, freshly picked green globe artichokes.
For a generation of home cooks, making dishes with artichokes meant opening a jar of Cara Mia marinated California artichoke hearts. They added a piquant flourish to omelettes or pasta sauces, sat nicely atop canapes, and gave iceberg lettuce salads a worldly air. Cara Mia artichokes are still around (though they now come from Spain, as do many packaged artichokes sold in the United States), and canned and jarred artichoke hearts remain a pantry staple. Almost all of them present a challenge to cooks who want their artichokes to taste like, well, artichokes. Whether they're "natural" (usually preserved in water, salt, and citric acid) or marinated (usually in sunflower oil or soybean oil and vinegar and herbs), the canned vegetables tend to taste of the brine in which they are preserved.
Lately, though, a tasty middle way between fresh and canned has emerged: Monterey Farms, located on California's Central Coast, offers cooked, ready-to-use hearts from locally grown, freshly picked green globe artichokes. The artichoke hearts from Monterey Farms are taken from relatively small, tender green globes and are hand-trimmed a day or two after they're picked. The hearts are quick-steamed, rubbed with lemon juice and olive oil (though an herbed version, and a grilled one are available), and vacuum-sealed. Fresh tasting and firm, the company's ArtiHearts, as the product is called, retain the sweet complexity of fresh hearts. You can buy packaged and trimmed uncooked fresh hearts, too: Epicure Farms, also in California, sells green globe hearts raw. And frozen artichoke hearts are yet another option; Trader Joe's sells frozen uncooked hearts that work splendidly in stews and sauces.