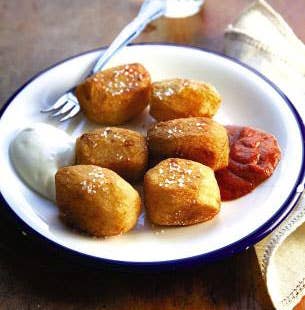 Culture
Fierce Potatoes
Valencia's fried-potato apotheosis
Whenever I travel to Spain, I order patatas bravas (see Patatas Bravas), the dish of fried potatoes with spicy sauce that's one of the country's most popular tapas. I've had great versions of this comfort food elsewhere, but I've never tasted any quite as mind-blowing as those served at Casa Montaña, a 174-year-old tapas bar in Valencia.
The first time I went to Casa Montaña, two years ago, I was awed by the simple beauty of their preparation: the potatoes, fried to perfection, were crisp on the outside and creamy within. On my next visit, last fall, I asked the owner, Emiliano Garcia, for his recipe. One secret to his delicious version, he says, is that he cooks the spuds, which he's carved into six-sided nuggets, twice in olive oil—once to soften them and a second time to render them crunchy and golden. Then there's the sauce. Most places serve patatas bravas with only a chile-spiked tomato sauce called salsa brava (fierce sauce), the kind that made the dish famous in the 1950s when this tapa was invented at a Madrid restaurant called Vinicola Aurora. The dish soon caught on in other parts of the country; in the northeast, Catalan cooks added their allioli, or garlic-and-olive oil sauce, as a cooling counterpoint to the fiery salsa brava.
Casa Montaña serves the tapa with a heaping dollop of each. The tomato sauce has plenty of hot smoked paprika, and the eatery's unusual allioli derives its particular whiteness and lightness from the addition of milk to the garlic and oil.
But the real reason behind this dish's greatness, Garcia told me, is the quality of the potatoes, a factor he said most tapas bars overlook. Every three months, Garcia and his son, Alejandro, drive 135 miles northwest to the village of Guadalaviar to pick up a fresh supply from farmer Roberto Soriano. Soriano's spuds are farmed without irrigation, resulting in a concentrated flavor and a dry texture that makes all the difference in frying, Garcia said. As I cleaned my plate, I couldn't have agreed more.