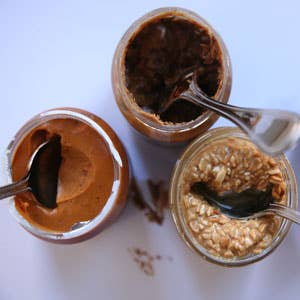 Culture
Peanut Butter: A Brief History, A New Taste
The best peanut butters on the market are all singularly different, but are also universally nutty and delicious.
As in most American families, peanut butter was a staple in our cupboards when I was a child, but in my family, it was more than that: peanut butter was a passion. Of course, we carried the ubiquitous PB&Js in our school lunch bags, and plenty of treats (sweet ones, mostly) got a peanut butter treatment: cookies, popcorn balls, ice cream, toast, banana smoothies, or a sticky ball of Grape Nuts and chocolate syrup. Our peanut butter consumption also veered from the clever, with the kid-friendly "ants on a log", made with celery and raisins, to the bizarre, with my mom's "walk-away salad", consisting of a carrot stick slathered in peanut butter and wrapped in a lettuce leaf. It was a snack that made for a handy grab on our way out the door to climb backyard trees, but admittedly not my favorite—except for that creamy peanut butter.
Certainly, Americans eat more peanut butter, and in the most inventive and enthusiastic ways, than any other people in the world; some 75 percent of 21st-century American households are believed to have a jar in the cupboard. Given the country's passion for the roasted and creamed legume, it would be fitting if that groundnut plant had originated in North American soil. Like many things American, though, it too is an import. The first peanut plants were found in South America, specifically in eastern Bolivia; the plant subsequently spread through South and Central America and the Caribbean. European explorers who arrived in the Americas in the 1500s and 1600s brought peanut plants to Asia and Africa, where they grew so extensively that many thought they originated there; peanuts are believed to have arrived on North American shores with the slave trade.
Though history suggests that indigenous South Americans and Africans were grinding up nuts into paste for centuries, the creation of American peanut butter is credited to one John Harvey Kellogg. In the 1890s, Kellogg, a vegetarian and a health advocate, crushed various nuts into "nut butters" in an attempt to find a substitute for cows' milk butter. "Nut" butter made with peanuts became the most common because the legumes were cheap.
The appeal of peanut butter widened; the ingredient appeared in cookbooks and was featured on the menus of fine restaurants. By 1900, the peanut butter sandwich—enhanced with such fillings as jelly, cucumbers, cheese, and bacon—was common fare throughout America. But once peanut butter went big time after being introduced at the 1904 St. Louis World's Fair, it lost some of its cachet and its popularity diminished. It couldn't be squelched, though, and peanut butter rebounded during the Great Depression, precisely because it was affordable and satisfying.
In addition to being delicious, versatile, and inexpensive, good old peanut butter packs a nutritional wallop, thanks to its generous amounts of protein, minerals, and fiber (though people with peanut allergies should not consume it). But where is peanut butter today, so many years after its invention? It was something we at SAVEUR wanted to find out, especially because only four types of peanuts are grown in America: runner, virginia, spanish, and valencia. So, we stuck our spoons into 23 jars to judge the best butters now on the market.
Cream-Nut Natural Peanut Butter
Since 1925, the Koeze Company has been making a hearty peanut butter from plump virginia peanuts and sea salt. Why virginia peanuts—those usually found in the form of fancy cocktail nuts—for peanut butter? "It's like making hamburger out of delmonico steaks," Martin Andree of the Koeze Company said. With a dark roast and a medium grind, Cream-Nut peanut butter occupies a midpoint between crunchy and creamy. Because virginia peanuts have less oil than other peanuts, only a little separation occurs at the top of the jar, by contrast with the pool of oil that usually sits in jars of other nonhydrogenated peanut butters. Sure enough, when we opened our jar of Cream-Nut peanut butter, there was just a bit of oil on the top.
Cream-Nut's vintage logo looks much like the 1930s original, and the manufacturing equipment has been around since the 1940s. The company believes that the vintage machinery makes a better product because it moves slowly and generates less heat, thus preserving the peanut flavor. There's not a single computer on the production line today, but the company has what Andree calls its "peanut butter wizard", a man named John Feenstra, who's been running the line for almost 40 years.
This peanut butter, full of roasted flavor, pairs well with a crisp apple or a thick slice of wheat toast. Look for crunchy and organic versions, coming out in January.
Earth Balance Natural Peanut Butter
A newborn of 2008, Earth Balance peanut butter is available in both crunchy and creamy versions. It's made with roasted runner peanuts and a blend of expeller-pressed oils that makes a "no stir" butter without being hydrogenated, and Earth Balance also throws in some flaxseeds for their beneficial omega-3 content. What also makes this peanut butter unusual is agave syrup, which provides a touch of sweetness but doesn't trigger a spike in blood sugar as other sugars can.
Earth Balance was a big hit at SAVEUR for its hint of sweetness and its ultrasmooth texture, reminiscent of the products of the peanut butter giants but without hydrogenated oil. Creamy and rich with the crunch of roasted nuts, this peanut butter was great on the spoon and would make a stellar sandwich.
$3.99-$4.49 for a 16-oz. jar; available nationally at Whole Foods Market and at regional supermarkets and specialty stores; www.earthbalancenatural.com
Krema Natural Peanut Butter
The Krema Nut Company, founded in 1898, claims to be the oldest continuously operating peanut butter manufacturer in the United States. All that goes into Krema Natural Peanut Butter is spanish peanuts that come with a #1 fancy grade rating. Nothing else is added, and the jars are still labeled by hand. Krema peanut butter had a great peanut aroma, but we found the taste a little flat, probably because of the lack of salt. Still, this would be a fine product to cook or bake with, for just that reason.
What started out as a peanut butter sandwich shop in Greenwich Village, New York, serving up all kinds of peanut butter goodness is now a product empire. Peanut Butter & Co. offers eight different flavors of peanut butter (as well as plain smooth and chunky), blended with white or dark chocolate, honey, maple syrup, cinnamon and raisins, or spices. Its peanut butters are thick and smooth, and we found the maple syrup and cinnamon and raisin versions scrumptious.
Yes, crunchy and creamy versions are available, but P.B.Loco caters to what it calls "adult taste" with its flavored peanut butters. In a range of versions, such as Asian Curry Spice, Raspberry White Chocolate, Jungle Banana, and Sumatra Cinnamon and Raisin, these peanut butters are for adventurers. Though it seems that most of us here at SAVEUR are traditionalists, we did savor P.B.Loco's peanut butter with chocolate chip cookie dough, for its smooth peanut flavor and plentiful chocolate chunks, and the spicy, savory Asian Curry Spice.
Squirrel Brand Artisan-Style Gourmet Peanut Butter
Like the eponymous bushy-tailed creature, Squirrel Brand knows nuts: since 1888, it's been kettle-roasting many different kinds. When customers started asking for peanut butter, Brent Meyer, the president and CEO, and his wife, Karen, worked to create a gourmet version. "We wanted a product that was uber special," Meyer said. The Meyers knew what they liked: a warm, delicious peanut butter spread. So, they created a "black label" peanut butter designed for heating and spreading. The Meyers use a rougher cut than normal for their peanuts, so this peanut butter's texture is heartier than that of a traditional "smooth"-style butter.
Take a few spoonfuls out of the jar and heat them at ten-second intervals in the microwave until they're warm and runny. In the spirit of what Meyer calls "the caviar of peanut butters", the gift packaging for this peanut butter comes with a buffalo horn spreader, so all you'll taste is peanut butter.
The Superior Nut Company was born in 1929 in Somerville, Massachusetts, when founder Nubar Hintlian started roasting nuts for profit in a movie theater's basement. Soon afterward, the Superior Nut Company started producing peanut butter. The company still uses that original recipe, which includes a (secret) mixture of different grades of only U.S.-grown peanuts. In 1980, the company began to make a peanut butter topping sauce; meant for ice cream sundaes, the topping preserves the flavor of peanut butter while also flowing easily.
Superior Nut's lightly salted, old-fashioned chunky peanut butter is unapologetically dense with roasted peanut chunks. The peanut butter topping is smooth and runny, with a full peanut taste but not too much sweetness.