A Season for Chanterelles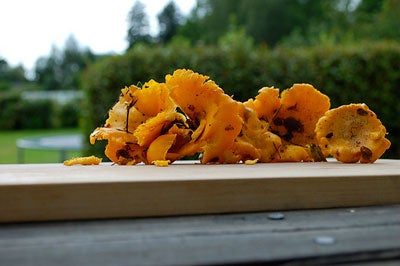 Rustic 18th-century charm may pervade New Hope, Pennsylvania's Honey Hollow Farm, but the farm's old-fashioned agricultural techniques aren't just set dressing. On their 170 acres, Michael Hoffman and his wife, Linda, grow a small amount of vegetables, herbs, flowers, and cultivated mushrooms with a keen sense of attention and appreciation for each plant.
Produce is also foraged from the land, so the farm's offerings at New York's Union Square Greenmarket vary wildly (pun intended). If you're lucky, you might chance upon a day when the rare and meaty chicken of the woods mushrooms are available; more readily available are the wild, golden-hued chanterelles. This fragrant fungus has a delicate taste and texture, with a floppy cap that may resemble a flower bud. Cooked quickly, chanterelles lend a singularly savory flavor to pasta dishes and stud buttery sauces for texture and eye-catching appeal.