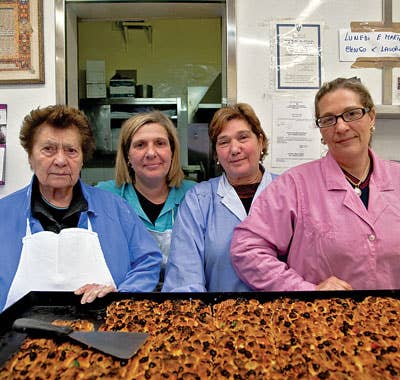 Travel
Pizza Like No Other
A Roman shop keeps a sweet tradition alive.
Blink and you might miss Pasticceria il Boccione, a tiny kosher bakery in Rome's Jewish Ghetto. But the heady scent of fresh dough, almonds, and caramelizing sugar drifting through the doorway will tell you that you're in the right place. The Limentani family has owned this shop ever since the great-grandparents of 90-year-old Grazilla Limentani, the current matriarch, started baking Roman Jewish sweets here nearly two centuries ago. Today, three generations of Limentanis do a brisk business in amaretti, cocoa biscotti, and ricotta tart with cherry preserves.
But the shop's signature is the pizza ebraica (Jewish pizza), which isn't a pizza at all, but rather a bar cookie studded with almonds, raisins, pine nuts, and candied citron. While pizza ebraica'_s origins are murky, the Limentanis suspect it was brought to Rome from Spanish-ruled Sicily in the 16th century by Jews fleeing the Inquisition. Its name was likely coined thereafter: pizza was a catchall term for sweet or savory pies, and _ebraica, or "Hebraic," referred to the dish's Jewish roots.
Pasticceria il Boccione was once one of several kosher bakeries in the Ghetto. Today it is the last, serving both as a link to the past and as a gathering place for many of the 20,000 Jews living in Rome today. "If a couple gets engaged or there's an illness in a family, the news comes through the pastry shop," says Roy Doliner, the cofounder of a local Jewish association.
Grazilla Limentani, three of her granddaughters, and a niece churn out several batches of pizza ebraica every day to keep up with an unflagging demand for the sweets, evident in the line that often snakes out onto the Ghetto's main drag, via del Portico d'Ottavia. Beginning with a coarse mixture of flour, fat, and sugar, the bakers knead in the fruit and nuts; then they add just enough sweet marsala wine to form a soft dough, which is baked in sheet pans until the brick-shaped cookies emerge from the oven with a burnished patina that has become a Boccione trademark. Blistered and lumpy, pizza ebraica isn't a looker, but its salty-sweet flavor and dense texture, punctuated by tangy fruit and crunchy nuts, has won countless acolytes, including Pope Benedict XVI, who surprised the Limentanis two years ago with a thank-you note for his favorite dessert.