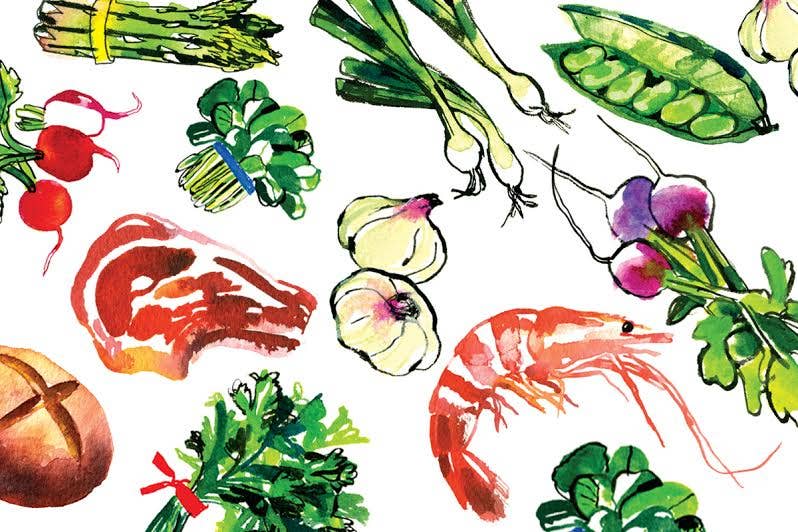 Culture
Poached Funghi
Never mind the law; Madame J. forages.
Brandishing a sharp paring knife, Madame J. homed in on a snow-white, saucer-shaped cluster protruding from a tree trunk. "Oyster mushrooms!" she declared, cutting off a fleshy mass. "Ahh, beautiful and moist. This," she said, her nose buried amid its folds, "is nature at its best." We were on a mushroom expedition in the woods of upstate New York. Somewhere in the Catskills is as specific as I can get; Madame J.—a native Parisian and stellar cook whom I adopted as ma mere française a decade ago—has sworn me to secrecy.
At 61, with spiky hair, a curvy, petite figure, and a lusty laugh, Madame J. hardly looks like a flagrant criminal. But New York State's Department of Environmental Conservation (DEC) says foraging on state territory is illegal, punishable by a fine of up to $250, 15 days in jail, or both. "No person shall deface, remove, destroy or otherwise injure in any manner, whatsoever, any tree, flower, shrub, fern, moss or other plant, rock, fossil or mineral found growing on state land," says section 190, title 6, of the New York Code of Rules and Regulations.
Despite good intentions, the DEC is up against history: foraging dates back to 400 B.C., when ancient Romans dubbed wild mushrooms "food for the gods". (Even today, an edible _Amanita _species is known as "Caesar's mushroom".) But neither the DEC nor the orange signs posted in the woods dampened my pal's zeal as she led me to her favorite stumps, roots, and logs. "Mushrooming is spiritual," Madame J. said, and she surely reached a transcendent height when she saw a burst of the orange-and-yellow plants called sulfur shelf mushrooms. While carving off fan-shaped layers, she explained, "Always leave part of the mushroom so it comes back."
After a morning of gathering, Madame J. proved that French mothers have gastronomic extrasensory perception. "How about I cook you a Wild Mushroom Omelette--with real French tarragon?" she asked. "Mais oui," I said.