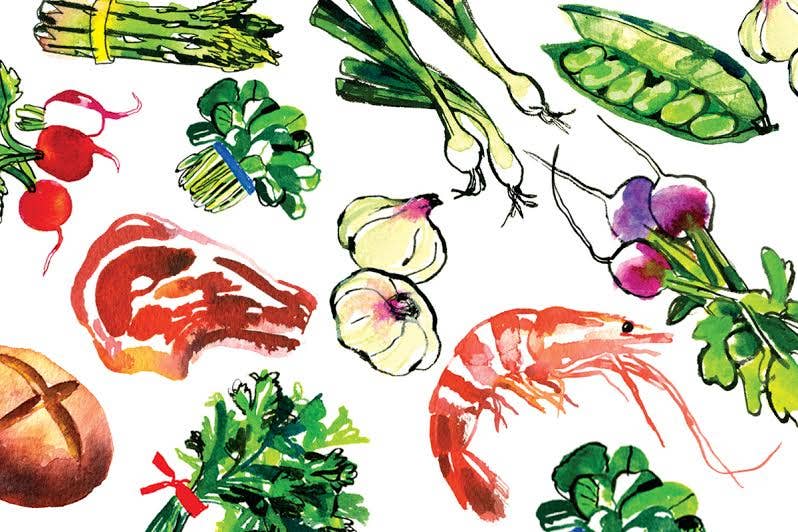 1. The enamel-lined cast-iron Staub mini cocotte is ideal for melting butter, cooking ingredients in small portions, and toasting spices.
2. The Ateco cake tester, though designed for baking, also works well for testing the doneness of fish; you know it's cooked when the tester slides through with barely any resistance.
3. Available for half the price of most metal strainers, the Matfer Exoglass fine-mesh plastic strainer (known in the trade as a chinois) filters stocks and sauces to smooth perfection.
4. Winco aluminum "sizzle" platters are just the right size for roasting a steak, glazing a piece of fish, or melting cheese on a sandwich.
5. Western-style heft and functionality meet Japanese fine craftsmanship in the Misono UX10 stainless-steel chef's knife.
6. A lightweight but tough White Plains Linen kitchen towel, which we often fold up to use as an oven mitt as well as for drying and wiping, seems never to wear out or fray.
7. This built-to-last Winco 1/9-size steam table pan makes a great storage vessel for prepped ingredients and even for leftovers.
8. There are bigger and more high-tech pepper mills out there, but we've become attached to this simple, handsome Peugeot model, which turns out a consistent grind and withstands serious wear and tear.
9. The powerful Dynamic immersion blender purees soups and sauces right in their cooking pots and whips up large batches of mayonnaise in seconds. Though more expensive than most household brands, it will outlast them by years.
10. Update International's clear squeeze bottles dispense oils, sauces, and condiments in precise portions for the expert finishing and garnishing of plates.
11. The Mora cutting board's polyethylene composition is easy on knife blades, and its faux marble design looks sharp, to boot.