Preserving Heirloom Apples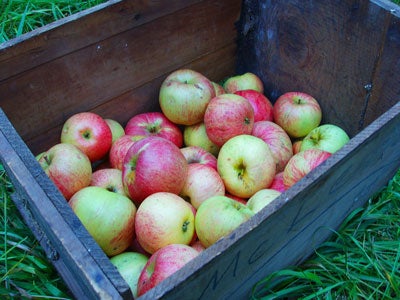 Interested in helping to preserve heirloom apple varieties? You can start by seeking them out, cooking with them, and eating them. Each apple has its own, unique qualities and is best suited for a particular use: baking, drying, preserving, making into applesauce or cider, eating fresh, and so on. There are other ways to get involved, too. Below, a roundup of coming events and information about local Slow Food USA chapters that are fighting to keep these precious varieties alive.
**Events
**
Great Lakes Cider & Perry Festival, St. Johns, MI
September 12-13, 2009
Fifty ciders and perrys (a ciderlike drink made from pears) from the Great Lakes region on offer, plus a tasting of local heirloom apples like Baldwin, Northern Spy, and Winesap.
Forgotten Fruits of the Great Lakes Region: Heirloom Apple and Cider Tasting, Chicago, Il
September 17, 2009
Plenty of hard and sweet ciders for sipping, plus artisanal cheeses and breads. Gary Nabhan, founder of the RAFT Alliance, will speak.
33rd Annual Common Ground Country Fair, Unity, ME
September 25-27, 2009
Michael Phillips of Heartsong Farm will host classes on basic and intermediate orchard skills; traditional apple varieties like St. Edmund's Russet and Wealthy available for sampling.
Foggy Ridge Cider Fall Open House, Dugspur, VA
October 3-4, 2009
Unusual apple varieties like the Pomme Gris, which resembles a potato and tastes like fresh ginger, free for munching, plus samples of Foggy Ridge cider.
2009 CiderFest on Vashon, Vashon Island, WA
October 10, 2009
Red Barn, Westcott Bay Ciders, and Blue Mountain are among the local cider makers who will be pouring drinks at this festival. Other attractions: a show of locally grown fruit featuring Queen Cox and Liberty apples and a cider-pressing demonstration.
Forgotten Fruits: Heirloom Apples and Blueberry History, Hancock, NH
November 4, 2009
Writer and cider maker Ben Watson and apple historian Tom Burford will talk about orchard restoration; crunch into local apple varieties like Granite Beauty and Nodhead.
15th Annual Franklin County Cider Days, Franklin County, MA
November 7-8, 2009
Free workshops on home cider making, apple growing, and more, plus a cheese and cider tasting led by Ben Watson.
Slow Food Chapters_
_
Slow Food Blueridge, Virginia
Diane Flynt, owner of Foggy Ridge Cider and Slow Food Blueridge board member, is so passionate about preserving apple varieties that she's founded Apple Corps, a group that plans to collect wild and unnamed apples from backyards and abandoned orchards, identify them, and graft them to new trees. Contact Slow Food Blueridge about getting involved.
Slow Food Russian River, California
Of the hundreds of California apple varieties, the sweet-tart and crunchy Sebastopol Gravenstein is one of the best; it's great fresh or baked into pies or made into vinegar, sauce, or brandy. Because this area is losing apple acreage at an alarming rate (mostly owing to the profitability of wine grapes), Slow Food Russian River is working to promote the Gravenstein, increase demand, and raise awareness of the importance of supporting local growers. Look for events in August 2010 at the end of the Gravenstein's harvest season.
Slow Food Monadnock, New Hampshire
This chapter's heritage nursery is dedicated to distributing rare and regional varieties of fruit trees to home orchardists throughout southwestern New Hampshire, and, beginning in 2010, the nursery plans to experiment with a greater diversity of grafted fruit trees, including peach, quince, pear, and cherry, native to the Northeast. Contact Slow Food Monadnock about getting involved.
Slow Food New York City, New York
Bringing the Green Newtown Pippin back to its native New York City is a major goal of this chapter. The apple is believed to be one of the only apples to have originated in the five boroughs, but today it's almost impossible to find. Slow Food New York City has assisted Green Apple Cleaners and other groups in their efforts to plant Green Newton Pippin trees in local nurseries, at schools, in community gardens, and at other public spaces and the groups are still accepting applications for those who would like a free sapling for the September planting season.