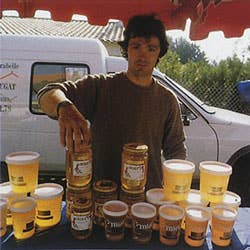 Culture
Provençal Honey
Infused with the flavors of the surrounding landscape, the honeys of Haute Provence are sweet and delicious.
Haute Provence is honey country. Honey flavors ice cream, custards, fruit compotes, pastries. It is a must for sweetening tisanes, or herbal teas. It is an essential ingredient of the region's celebrated homemade nougat. Honey is even stirred into marinades and sauces, adding a nectarous counterpoint to crisp roast duck or young goat.
The bees of Haute Provence are only part-time citizens: In April, hives are brought in vans from the south of Provence to the hills around Riez and the plateau de Valensole. The honeycomb is gathered in September, then put into an extracting machine that, through centrifugal force, pulls the honey from the wax that is then put into clay jars or glass bottles. In November, the hives are taken back to the south, where the bees remain inactive throughout the winter.
The classic honey of Haute Provence comes from bees who feed on wild thyme and lavender. Some bees, however, prefer local sage, marjoram, or rosemary while others are brought to the neighboring departements of the Var or the Alpes Maritimes to feed on the blossoms of acacia, chestnut, linden, maple, fir, or eucalyptus trees or heather bushes. When a bee feeds on many different flowers, it produces a "miel mille fleurs" or thousand-flower honey. Bees generally have a range of no more than about a mile-and-a-half, so if the beekeeper places his hives near an abundant field of one plant—say lavender, rosemary, or chestnut trees—the honey will retain the distinctive flavor of its source material.