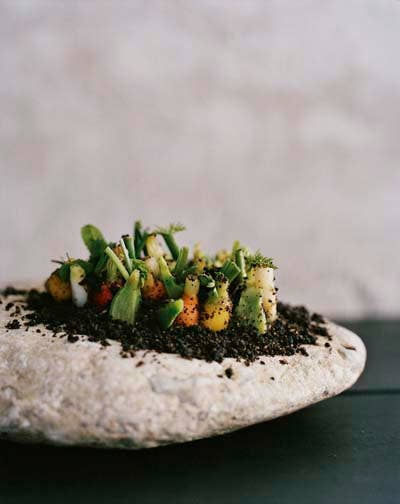 Culture
Noma's René Redzepi Wants to Feed You Really Old Carrots
For a long time, the phrase "Scandinavian cuisine" has conjured images of herring, reindeer jerky, and infinite winter potatoes. But Rene Redzepi is changing that perception. His Copenhagen restaurant, Noma, was named the Best Restaurant in the World at the San Pellegrino 50 Best Restaurants awards last summer. And he's joined Phaidon to publish an epic cookbook/visual history called _Noma: Time and Place in Nordic Cuisine, _in stores now.
"Increasingly, menu cards are the same all around the world," said Redzepi at a recent New York Public Library discussion called "Tasting Culture" with Momofuku chef David Chang and former Gourmet editor-in-chief Ruth Reichl. Whether the restaurant is in Sydney, Paris, or Los Angeles, "you don't know where you are anymore." With Noma, Redzepi has made a name for himself by going hyperlocal. The book reads like a botanist's notes on local Scandinavian flora and fauna, featuring ingredients like sea buckthorn, Smogen shrimp, and Icelandic moss.
Redzepi insists that foraging can provide a wealth of material to any cook, anywhere. He recounted one of Copenhagen's harsher winters, when his dedication to sourcinge everything locally was challenged. He and his team cooked the only interesting local produce they could get their hands on—dark blue carrots which that had been wintered over and forgotten on the a farmer's icy fields.
"They were utterly old, shitty carrots when eaten raw, but we were desperate," Redzepi said. He treated the each dark, leathery-skinned carrot with the same respect he would confer on meat, braising it for two hours in goat's butter and serving the deep purple taproot with fresh chamomile tips and sorrel. His nurturing brought out the intense sweetness of the aged root; the limitation of terroir became a path to discovery.
Freegans and survivalists may be patting themselves on the back for beating the rest of us to the gatherer trend, but Noma is not a place for freewheeling, crunchy cooks. "I think what separates Noma from a lot of restaurants is the execution," said Chang. It's no surprise—Redzepi honed his skills while staging under the likes of Thomas Keller at the French Laundry and Ferran Adria at El Bulli.
Whimsical dishes like vegetables in malt flour-based "soil" also add humor to the rigorous technique. "Why are we here? It's to make people happy," said Redzepi.
Not all of us have the pristine, generous landscape of Copenhagen from which to pick beach cabbage and young bulrushes. But Redzepi said he could forage for ingredients just as well in New York City's Central Park. His advice? "Don't even chance it with mushrooms. That's lesson number one."