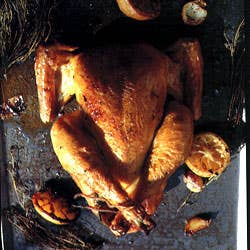 Culture
Ruling the Roost
In an old farming community in central North Carolina, farmers, breeders, and chefs gather to take part in a rare event in the world of gastronomy: a vintage breed chicken tasting.
The chickens that emerged from the oven at the Inn at Celebrity Dairy, a B&B and goat cheese farm in Siler City, North Carolina, permeated the kitchen with the warmly familiar aroma of Sunday dinner, but these birds didn't look anything like your standard roasters. One had unusually long legs that poked out of the pan; another had a meaty breast that burst through its thick, burnished skin; and a third looked as lean as a long-distance runner. A local chef named Andrea Reusing carved each one carefully and stole a few bites. "This is what chicken is supposed to taste like," she said, with a wide grin. Sneaking a few morsels myself, I was amazed at the range of flavors and textures, from rich and gamy to satiny and succulent.
I'd made the trip to this old farming community in central North Carolina to take part in what surely constitutes a rarity in the world of gastronomy: a chicken tasting. Specifically, it was a tasting of three vintage breeds—the long-legged Barred Plymouth Rock, the full-breasted Dark Cornish, and the gangly Buckeye—all of them formerly prized varieties on American farms that are virtually unknown to the present-day chicken-eating public. At a long table in the living room sat 20 or so farmers, breeders, chefs, and others who had flocked here to taste these heritage birds and to brainstorm ways to bring them back to the table.
The event was hosted by the American Livestock Breeds Conservancy, a nonprofit group dedicated to the revival and conservation of rare farm breeds. Hosting culinary events hasn't been the traditional bailiwick of the ALBC, whose primary mission has been researching and cataloguing old breeds valued by farmers on the livestock show circuit who appreciate them for their colorful history and appearance. Lately, though, cooks have been rediscovering the gustatory pleasures of these hitherto hard-to-find birds, which have fuller and more-distinct flavors than both their supermarket counterparts and even most organic, pasture-raised poultry. The vast majority of chickens in those categories belong to a single commercial crossbreed called Corn Rock, which has dominated the poultry market since the 1960s and has been scientifically engineered so that the birds mature in six weeks, as compared with vintage-breed birds, which are slaughtered after 16 weeks and thus have a deeper flavor and firmer texture.
"The farmers who have maintained these breeds have always known that they taste better," said Don Schrider, a friendly ALBC employee in his early 40s, as we sat down to the tasting. He gave an affectionate peroration on the Buckeye, which, he explained, was invented by an Ohio farmwife named Nettie Metcalf in the late 1800s. Schrider had raised the Buckeyes being served and had reason to be proud; they had dark, delicious thighs and fragrant white meat. The two other heritage varieties we were sampling—Dark Cornish and Barred Plymouth Rock—were from a fourth-generation Kansas poultry farmer named Frank Reese, who is renowned in poultry circles for the genetic purity of his breeding stock and is credited with popularizing heritage-breed turkeys, with the help of Slow Food, the global organization dedicated to preserving traditional foodways.
Today, old-breed chickens are on the rebound. Farmers are raising Buckeyes through Slow Food's Renewing America's Food Traditions project, and Reese's chickens are available through the mail-order company Heritage Foods USA. Soon Reese will reintroduce two more once popular birds: Black Jersey Giants (a large variety once favored for roasting) and New Hampshire Reds. Chefs like Andrea Reusing—who has served many of these birds at her restaurant, Lantern, in Chapel Hill, North Carolina—are learning how to cook with these diverse chickens, and home cooks are singing their praises, too.
"A woman called me in tears not too long ago," Reese told me recently. She wanted to let the farmer know that she had bought one of his Barred Plymouth Rock birds and, after 40 years of marriage, had finally made chicken and dumplings that met with her husband's enthusiastic approval. She had convinced herself that she was a flawed cook. "She said to me, 'Now I know that all these years it wasn't me. It was the chicken.'"