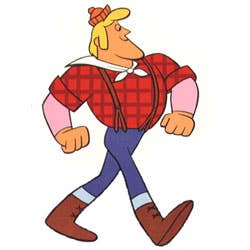 Culture
Sara Lee, Meet Chef Boyardee
They're the faces and names on the foods many of us love, but they're not all who you think they are.
Who lurks behind the labels attached to some of America's favorite "personalized" foods? Real people or not? It all depends.
AUNT JEMIMA: Real? No. Aunt Jemima was a bandanna-sporting cook character in a late-19th-century minstrel show. Missouri flour mill proprietor Chris Rutt borrowed the name for his ready-made pancake mix. Over the years, the character's likeness has evolved from a stereotypical "mammy" to a well-turned-out woman of a certain age—who does indeed look like somebody's aunt, but who would never in a million years be named Jemima.
BETTY CROCKER: Real? No. Invented by an ad man in 1921, for a contest promoting Gold Medal flour, this symbol of wholesome baking was named "Betty" because it sounded homey, and "Crocker" in honor of a retired director of the company. The imaginary Ms. Crocker's portrait was redesigned six times through the years to update her look, but has now been retired from packages of Crocker products.
CHEF BOYARDEE: Real? Yes. Italian immigrant Hector Boiardi, who changed his professional name to the phonetic Boyardee, sold do-it-yourself spaghetti dinners (sauce, cheese, and noodles) at his restaurant in Cleveland in the '20s. Then he started canning ready-sauced spaghetti. Since 1946, American Home Food Products has owned the brand.
DINTY MOORE: Real? Maybe. Dinty Moore was a comic strip innkeeper, whose creator licensed the name to Geo. A. Hormel & Co. for its canned beef stew. A Manhattan restaurateur of the same name sued, claiming that the character was based on him. The cartoonist maintained that his inspiration had been a bellhop at a St. Louis hotel. In the 1970s, Hormel reinvented Moore as a lumberjack.
DUNCAN HINES: Real? Yes. Hines was a traveling salesman who became America's first nationwide restaurant critic, publishing an annual guidebook called Adventures in Good Eating. In 1956, he sold the rights to his name to Proctor & Gamble—which quickly introduced a line of Duncan Hines cake mixes.
MRS. PAUL: Real? No. Mrs. Paul's Kitchens, famous for its frozen fish sticks, was founded near Philadelphia in 1946 by ex-Campbell Soup salesman Ed Piszek and short-order cook John Paul. They called their company "Mrs. Paul's" because that sounded better than "Mr. Paul's"—and way better than "Mr. [or even Mrs.] Piszek's." Campbell's now owns Mrs. Paul's.
OSCAR MAYER: Real? Yes. Oscar Mayer was a German butcher in Chicago in the 1880s who started distributing his sausages nationally. His hot dogs, promoted by appearances of the Oscar Mayer Wienermobile—a low-slung roadster topped with a gigantic sausage—are America's most popular brand.
SARA LEE: Real? Yes. Bakery proprietor Charles Lubin named his wholesale operation after his 9-year-old daughter, Sara Lee, in 1949. For much of her life, Sara Lee concealed her connection with baked goods, but eventually emerged as a spokeswoman for the corporation that still bears her name.
UNCLE BEN: Real? Probably. Uncle Ben is said to have been a rice farmer in the Houston area at the turn of the century, famous for the quality of his crop. In the late 1940s, the owners of the Converted Rice Company (converted rice is steamed to drive nutrients into the center of the grain) decided to name their product after the by-then-deceased standard-bearer.