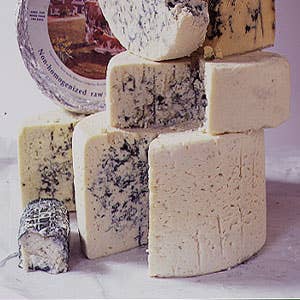 Culture
Saying Au Revoir to a Famed Blue
When a new tariff sets in, cheese stores might stop carrying Roquefort for good.
Blue news, America: the days are dwindling until Roquefort, the famed French cheese, will no longer be readily available. A last-minute measure by the Bush administration, to be enacted on April 23, will impose a 300 percent tariff on luxury foods from Europe—among them the blue cheese named for the Roquefort region. The tariff will raise the cost of Roquefort to over $60 per pound. At that price, importers and shop owners will be hard-pressed to make a profit on the cheese, and the unhappy practical measure for many will be to discontinue its sale altogether.
One of New York City's landmark cheese shops, Murray's Cheese, has announced that it will no longer carry Roquefort when the tariff is put in place. The current price of Roquefort at Murray's is $32.99 per pound, and the shop has sold approximately 50 pounds of the cheese per month over the past four months. Its discontinuation will prove a significant loss, so Murray's is bidding adieu to the blue in style: on March 22, the Greenwich Village store will host a going-away party.
Taylor Cocalis, the director of education at Murray's, explains that the shop intends to celebrate the last days of the cheese's presence in the shop but also to raise awareness of the tariff—and garner some antitariff support, too. "We're feeling an overwhelming sense of disappointment," Cocalis says of the mood at Murray's. "It's a shame to lose a product so deeply rooted in the tradition of cheese making. Roquefort is what people think of when they think of a blue."
For a five-dollar entry fee, similarly disconsolate partygoers will get a last taste of Roquefort at the shop, but the kind folks at Murray's will also introduce two suitable, affordable replacements. "Persille de Malzieu is about as close as you can get," Cocalis says. "It's a pasteurized sheep's milk cheese, made right outside the designation of where Roquefort can be made, and it's only $24.99 per pound."
Cocalis describes the persille de Malzieu as "aggressive, biting, zippy, and peppery", but there's a hint of longing in her voice. When it comes to Roquefort, is "as close as you can get" quite close enough?
Laura Nuter, the owner of Brooklyn's GRAB Specialty Foods, admits that "nothing is really ever just like a Roquefort". GRAB usually carries Society Roquefort but now carries a Roquefort-style Spanish cheese, Roncari Blue, as an occasional substitute. The Roncari Blue costs $18 per pound.
"Everybody's going through a bad economic time right now," Nuter says, "so we like to give our customers options. But we would never banish Roquefort entirely. We're just likely to carry it less often, and to offer substitutions when it's not in-house."
Considering the current financial climate, finding a cheaper alternative to pretty much anything is probably not a bad idea. Nonetheless, as Cocalis says, "The Roquefort will be greatly missed." So, to Murray's and the many who plan to mourn there next weekend: may your memories comfort you.
The Murray's Cheese Shop Greenwich Village Farewell to Roquefort party takes place on Saturday, March 22, in Manhattan from two to five P.M. There is a five-dollar entry fee, and the first 50 visitors will receive a complimentary glass of sweet wine (212/243-3289; 254 Bleecker Street, New York, New York).