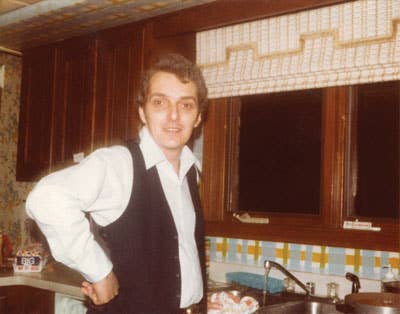 Culture
Solo Act
Remembering a father's solitary feats in the kitchen
When it came to cooking, my father, Ron Pandolfi, preferred to go it alone. Each night, he would lock himself in the kitchen by stretching rubber bands around the knobs of the room's louvered French doors, ensuring that neither I nor my mother, nor even our faithful dog, Mitzy, could break in and interfere with his art.
He had spent much of his Springfield, Massachusetts, childhood learning how to cook red-sauce dishes alongside his six Italian-American siblings—five brothers and one tough-cookie sister—in the small cinder-block building that housed his father's restaurant and catering business. Maybe that's why he liked working alone.
No matter the reason, the fruits of Dad's solitary labors were so delicious that we could hardly protest his kitchen lockdown. My memories of the sounds and smells emanating from behind those doors are the fondest of my childhood: the clanging of pots and pans, the sizzle of sauteing onions, the "bum, ba-ba bum, ba-ba bum" noises he made as he hummed a great Strauss waltz, and, once dinner was simmering on the stove or roasting in the oven, the clink of ice going into a glass, followed by the splash of Chivas Regal being poured.
It's been 20 years since my father passed on at the incomplete age of 48, without so much as showing me how to crack an egg. His insistence on privacy meant I'd never seen him prepare any of his dishes. And so, a few months ago, still piqued by memories after all these years, I finally asked my mother to give me a few of Dad's recipes. She suggested I start with a bold 1970s creation he called Chicken Galliano. The dish, based on a recipe in a booklet that came tied to the neck of a bottle of the namesake Italian digestif, was her favorite.
I didn't remember Chicken Galliano at all, but my mind pulled a Proust as soon as I began sauteing the chicken in the golden liqueur. My apartment was enveloped in the sweet aroma of anise and vanilla mingling with browning butter and melting cheese, and that's when I recalled what home had smelled like back when Dad was alive. And while there was more than enough chicken to feed a few friends, I hadn't thought to invite any. So, in honor of Dad's memory, I sat down to a dinner for one, eating straight from the pan.