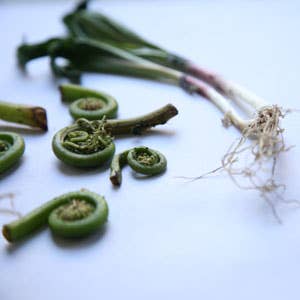 Culture
Stars of the Season
Alice Waters, Evan Kleinman, and other creative culinary foragers share their favorite, fleeting, springtime ingredients.
Chef: Alice Waters; Chez Panisse, Berkeley, California
Ingredient: Provençal purple artichoke
In the Provence region of France, farmers cultivate a small, intensely purple artichoke that can be eaten raw because its core, or "choke", is underdeveloped and therefore less prickly than that of the traditional green variety. Alice Waters, the noted author and Bay Area legend who pioneered local cuisine at her Berkeley, California, restaurant Chez Panisse, has admired the purple chokes for decades. "I probably discovered them on a college trip to southern France," she says, "but now they're available all over."
To be fair, even as the purple artichoke has become a California crop, it remains hard to find in much of the heartland (cooks in Kansas should check their local Whole Foods store and farmers' markets). Should you be lucky enough to score a few specimens, however, Waters would recommend that you prepare them simply, such as by trimming the stems, boiling or steaming the chokes, and stuffing them with a mix of bread crumbs, parsley, garlic, and chopped anchovies. The result just might be the easiest, most impressive side dish ever to grace your dinner table.
Chef: Ming Tsai; Blue Ginger, Wellesley, Massachusetts
Ingredient: Squash blossom
Ming Tsai, chef at the Boston-area restaurant Blue Ginger and host of the PBS cooking show Simply Ming, calls squash blossoms "nature's wrappers". A favorite ingredient on many Asian, Italian, and American tables, these fragile blooms have a faintly sweet, vegetal flavor that shines through when they are fried, Japanese tempura style. Tsai discovered the squash blossoms when he was a young chef trolling Paris's spring markets, but squash are abundant throughout the Americas, and their blossoms can be found wherever the plants grow.
Fresh blossoms are so delicate that "when you put your finger to one, you can kind of see through it", Tsai says. Here is his tip for cooking them: "Cut three or four slices into it carefully, and fan it out, so you increase the surface area. Then dip it in a batter of rice flour and club soda before frying for a few minutes." Serve the lightly fried blossoms with a mixture of soy and ponzu sauce as a head-turning appetizer bursting with flavor. Or, Tsai suggests, "If you want to get more complex, you can fill it with a shrimp mousse."
Chef: Clark Frasier; The Arrows, Ogunquit , Maine
Ingredient: Fiddlehead fern
Fiddleheads, or scroll-topped baby ferns, sprout in the grassy woodlands of the Northeast in the late spring, and chef Clark Frasier and his team forage for them in the forests that surround their Maine restaurant. "They taste like a cross between spinach and asparagus," he says, "and they look like little question marks."
Though fiddleheads have long had a place in American kitchens (there is even a recipe for them in the Fanny Farmer cookbooks), it's unlikely you'll spot them at the Safeway. If you're not ready to scour the forest yourself, Frasier recommends that you ask the vendors at your local farmers' market for help in finding them. Then, for a simple but luxe preparation, he suggests lightly blanching the fiddleheads, sauteing them in brown butter, and serving them with warmed prosciutto on top.
Chef: Evan Kleiman; Angeli Caffe; Los Angeles, California
Ingredient: Fava beans
For Evan Kleiman, a popular LA chef and host of the KCRW public-radio show Good Food, nothing says spring like pale green fava beans. Fresh favas are widely available in most supermarkets as early as March. "They are such a classic Italian spring dish," she says. "People in Italy sit at tables and break the pods, popping the fresh beans into their mouths raw. It's social and fun."
At home, Kleiman prefers to cook the beans, though she does stick to a minimalist method. First she sautes them in olive oil with leeks, artichokes, peas, and new (that is, young, spring) garlic; then she uses the mixture as a pizza topping along with fresh, local ricotta cheese.
Chef: Ben Barker; Magnolia Grill, Durham, North Carolina
Ingredient: Spring goat cheese
Chef Ben Barker can't get enough of the soft, spring goat cheese from North Carolina's Celebrity Dairy. "It's tangy and grassy and wonderful with the season's first arugula or paper-thin slices of vidalia onion, olive oil, and roasted pecans." Still, while he's loyal to his local dairy, Barker admits that "all small-production, local cheeses reflect seasonal change". (Because spring is the time when goats produce milk for new offspring, the season's cheeses are often especially rich.) To put their taste buds to the test, Barker suggests that cooks "seek out a fresh log or pyramid-style cheese from a local producer" throughout the year "to examine how it varies". Whatever the season, the cheeses make a great addition to salads, sandwiches, and pizzas.
Chef: Douglas Keane; Cyrus, Healdsburg, California
Ingredient: Ramps
Ramps are a long, thin, variety of wild onion that lend dishes a sweetness that traditional leeks can't match. These fresh young things grow wild along the East Coast in the spring but are also available at specialty markets across the country.
Chef Douglas Keane discovered ramps at home, in his mom's Michigan kitchen. Besides having an appealing flavor, ramps are easy to use. "The simplest way for the average cook to make ramps is to pickle them, which is my favorite way," Keane says. Just blanch the bulbs and then steep them in white wine vinegar and pickling spices. Once pickled, they will keep, refrigerated, for weeks and are endlessly versatile. "Pickled ramps make a great garnish for shellfish or pasta because of the added acid kick," Keane says, "or in cocktails instead of onions and olives.