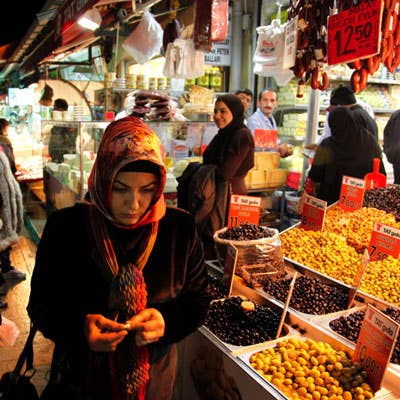 A city as ancient and fabled as Istanbul is a repository for stories and secrets. I suppose it's little wonder, then, that I've ended up basing a series of detective novels upon my years of visits to the city, with its colorful and noisy street life. The abundance of outdoor markets and eateries has allowed me to sit and watch local characters come and go over the years—Ottoman princesses, gun-toting mobsters, rainbow-clad eccentrics. And then there is the fantastic food itself.
I've had countless memorable street-side meals in the years I've been visiting Istanbul, but one stands out in particular. It took place 23 years ago in Çiçek Pasajı (the Flower Passage), on the European side of the city. This elegant, cafe-lined arcade is today a peaceful spot to dine. Back in 1987, things were different.
It was the first time my husband had been to Istanbul, and we'd been hitting the town hard by the time we arrived in Çiçek Pasajı. The Pasajı was wild in those days, full of soldiers drinking raki, Gypsy musicians, chain-smoking veterans of the 1974 Cyprus War, and ladies of easy virtue. There was no stained-glass roof covering the place then, as there is now, only a flapping tarpaulin. We sat down at a rough wooden table outside a nameless restaurant. I ordered yogurt laced with mint and cucumber; a green bean salad called fasulye; and lahmacun, fragrant flat bread topped with a blistering paste of ground lamb seasoned with cumin, cayenne, and chiles. I also ordered çig kofte, spiced lamb meatballs, which, being raw, can be a risky choice, but we washed them down with lashings of eye-watering raki while listening to an elderly chanteuse sing Edith Piaf numbers.
When my husband stumbled off to find the waiter, I managed to deflect the attentions of a tire salesman from Damascus (he didn't care that I was married). I ordered more raki, my husband returned, and we were fully immersed now in the scene around us. It was then that I caught sight of her: the tallest, blondest, most stunning transsexual I had ever seen. She wore a tight leather miniskirt and stiletto heels. On her arm was a dark, staggeringly handsome man. Later we discovered that the man was an undercover policeman who had just arrested her for soliciting. But for me, if not for her, that moment was meaningful. I didn't know when or how, but I knew I wanted her as a character one day. Years later, she became Samsun, my detective's outre, cross-dressing cousin. Every time I write about her I recall that night in Çiçek Pasajı, and I taste the spice of the lahmacun in my mouth. —Barbara Nadel, author of  Deadly Web (Headline, 2005) and  Death by Design (Headline, 2010)