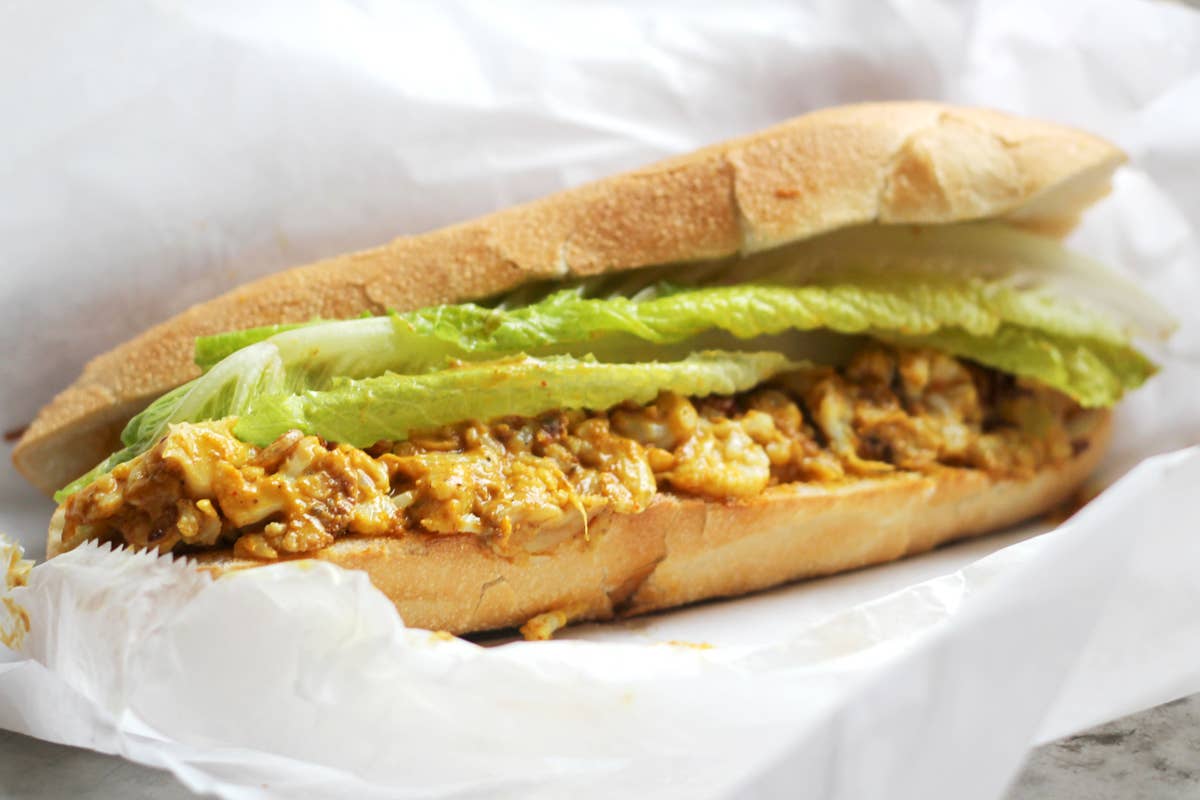 Culture
Subs for Sandy
At No. 7 Sub in Manhattan, April Bloomfield's cauliflower sandwich both tastes good and does good
I dropped by New York's No. 7 Sub earlier this week for a friendly visit with chef-owner Tyler Kord and a bite of his latest menu item: a limited edition Roasted Cauliflower Sub, courtesy of Breslin, John Dory Oyster Bar, and Spotted Pig chef April Bloomfield. It's the third guest-chef sandwich to hit Kord's menu in recent weeks, as part of a fundraiser by the creative-minded sub shop for Hurricane Sandy relief efforts.
Bloomfield's creation follows those of Jean Georges Vongerichten and George Mendes, with all proceeds going to Occupy Sandy, an offshoot of the Occupy Wall Street movement that is making remarkable strides toward aiding and rebuilding those communities most affected by October's storm. The $12-$13 subs have been selling out daily, so I arrived just in time to snag the very last sandwich of the day. I couldn't have been more grateful for what I bit into: Roasted with garlic and coriander, the tender cauliflower is tossed in a richly spiced curry mayonnaise and served with romaine lettuce and a garnish of crispy fried shallots.
Kord described the sandwich as "a big ball of awesome cauliflower," and I found myself enthusiastically nodding my agreement, mouth full from my eager, oversized bites. The rich mayonnaise highlights the warm heat of chiles, coriander and cumin, with a touch of sweetness from pineapple and an undercurrent of grassy, peppery olive oil. A bright, citrusy dressing for the romaine keeps the rich curry in check, with some welcome sweet crunch from shallots, all in all resulting in a beautifully balanced, supremely hearty vegetarian sandwich. Knowing that the $12 price tag is heading to charity doesn't hurt, but it's hardly the only incentive to pick up one of these special subs.
The sandwich will be available through Saturday, December 22 at No. 7 Sub's Ace Hotel location in Manhattan. Though it's meant to be the last of the series, Kord has had recipe offers from fellow New York chefs pouring in, and it remains to be seen whether the charitably minded folks over at No. 7 Sub find themselves extending their run.