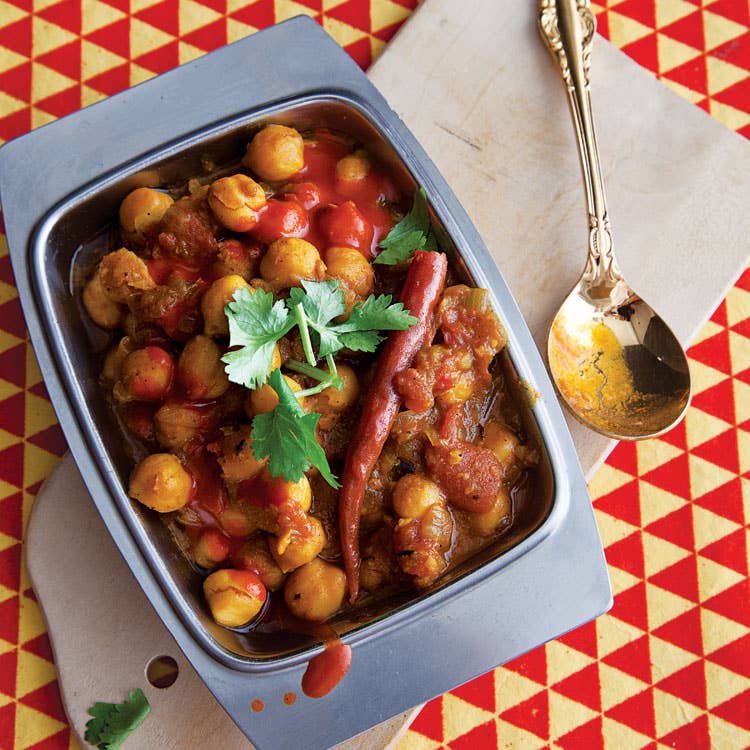 It is the food of the poor, the handcart-pullers. A simple chickpea stew, it is called by many names: chana, chole, hara matar when it's green. Its tartness comes from tamarind, pomegranate seeds, green mango powder, or lemon. It can be dry or wet, fortified with potatoes, tomato-red or almost black. Under any name, it feeds India.
On highways in the country's north, truck drivers stop for lunch at roadside dhabas. The waiter, some stripling lad, will gesture to a rope cot shaded by a tree. The cot will have a wood plank dividing it in the middle; on the other side will be another driver. A plate of chana masala, and the balloon-sized fried bread bhature, will be deposited on the platform, along with sliced onions, chiles, and lime. After eating their fill, the drivers will stretch out head to toe and snooze before returning to the road.
If you go to a gurudwara, a Sikh temple, in Ludhiana or London, you'll be offered a plate of chana after the prayers, during langar, the communal meal distributed to whoever comes through the doors. Many people, Sikhs or not, are nourished by the langar. Ounce for ounce, chickpeas contain as much protein as meat.
Chana nourishes in other ways, too. One Thanksgiving a few years ago my extended family met in my sister's house in Raleigh, North Carolina. It had been a slightly tense holiday, with everybody trying to sweep the usual family tensions under the rug. We had eaten turkey with all the trimmings, but something was missing. It was around midnight, and we were sitting in the living room, drinking whatever was at hand. The kids were still up and running around. Unbelievably, we were hungry.
I went to the kitchen and opened a few cans of garbanzos and started cooking a pot of chana. I put the pot down on the living room floor, with a stack of pita bread next to it. First the children ate, dipping the bread straight into the pot. Then the adults, with equal disregard for ceremony or silverware. Soon, the tension dissipated into laughter, out-of-tune song, and the elemental comfort of a well-known food filling up our bellies. —Suketu Mehta, author of Maximum City: Bombay Lost and Found (Vintage, 2005)