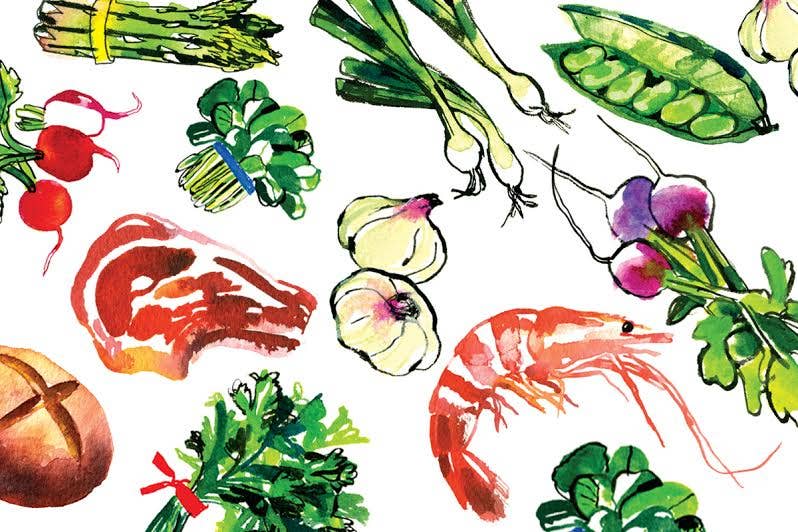 As one who has created an outsize image of himself as chef, Food Network personality, and cookbook author, Mario Batali recedes into his latest endeavor and third published collection of recipes—after _Simple Italian Food _(Clarkson Potter, 1998) and _Mario Batali Holiday Food _(Clarkson Potter, 2000)—and in The Babbo Cookbook gives his gutsy, Italy-inspired food center stage. And that's exactly where it belongs, because the dishes within are as much a pleasure to cook at home as they are to eat at Batali's Babbo Ristorante and Enoteca in New York City's Greenwich Village.
I'm not big on chef cookbooks. My kitchen is seldom a venue for the likes of foamy emulsions or long-simmered demi-glaces. The strawberry blond-ponytailed, orange-clogged, shorts-clad Batali evidently isn't a fan of such fussiness either. Instead, in spare, conversational prose he repeatedly demonstrates the fact that complex flavors don't have to be produced by complicated methods. In his introduction, Batali tells readers that what they'll find in the recipes is simplicity. "This is not my way of dumbing down the technique to make it easier on the home cook," he explains. "This is truly the way we cook at Babbo."
The way they cook at Babbo—the most elegant of Batali's three Manhattan restaurants, which include Lupa and Esca (he also co-owns the Manhattan wineshop Italian Wine Merchants)—is to find the freshest ingredients ("Shop hard and shop smart," Batali instructs in one of my favorite lines in the book) and prepare them in ways that will bring out their best inherent qualities. Batali admits that he's hardly a pioneer in this regard, although he may be one in terms of his imaginative reinterpretation of Italian dishes using local ingredients. Take the recipe for "two-minute calamari Sicilian lifeguard style". "I have never actually met a Sicilian lifeguard," Batali confesses, "but if one were to cook up a pot of calamari, this is how he or she might make it." When this concoction, with its brash, spicy tomato sauce, briny caper berries, sweet currants, sharp scallions, and soft balls of Israeli couscous, was set before me at the restaurant, my palate marveled at the symphony of flavors: the ruggedly individual elements melded together to form a cohesive whole.
When attempting the recipe at home, I girded myself for what I expected would be the classic chef's-cookbook tightrope walk. However, the dish was ludicrously easy to prepare (though it would have been too spicy if I hadn't reduced to a teaspoon the tablespoon of hot red pepper flakes called for), and it was a huge hit. Batali promises to deliver recipes that "present the dishes precisely as they are served at the restaurant", and by God, he does.
I reproduced other dishes I've eaten at Babbo, like the high-impact braised short ribs with horseradish gremolata, and they all met this challenge. I also fixed dishes I hadn't tried before, including the duck bresaola with borlotti and red onion jam, which offers a lesson in easy curing and is a study in bold flavors: garlicky borlotti beans and sweet-tart onion jam play beautifully off the lusty, herbaceous fowl. Crostini toscani with fennel pickles and kale were rich and spicy (and, like the calamari, would have been too hot if I had used the full tablespoon of red pepper flakes as instructed). Insalata di mare, barbecued skirt steak with endive a la piastra, and osso buco with toasted pine nut gremolata all were excellent, as was the intense hazelnut cake, which I'll bake again and again (even if it requires about 15 more minutes in my oven to bake, and at a slightly higher temperature, than the recipe indicates). All came out looking just as they did in the stunning photographs (by former saveur executive editor and star photographer Christopher Hirsheimer), all were surprisingly easy to prepare, and each one was more delicious than the last.
Chapters are organized by course, from antipasti to dolci, and they work well both as manuals and as good reads because Batali begins them with short discussions that impart a sometimes alarming degree of lyricism along with the necessary information. For instance, writing on the relatively mundane act of adding sauce to fresh pasta, he writes, "When tossed with the correct amount of ragu (most often less than you'd think), it becomes the dreamy poetry that Petronius lived, a harmonic convergence of just-firm noodles and properly rich yet spare meat sauce.…" In this same pasta primer, Batali explains the different uses for fresh versus dried varieties, offers a word on the seasonality of pasta dishes, and ultimately admonishes us, "Make pasta the way _you _like it. Your guests can tell if you're faking."
While I heartily appreciate the message that readers shouldn't be slaves to instructions, there are a couple of places in the book where the directions are just a bit too open to interpretation for my taste. In the osso buco recipe, for example, I would have liked to know whether—and how finely—to chop the parsley and the lemon zest listed as ingredients for the gremolata. Now, this sort of thing doesn't make or break a recipe, mind you, but I still wanted the specific information.
That said, the book allows readers to re-create more than Babbo's food. A hint of the gracious atmosphere is delivered via notes on wine service and hospitality written by Batali's business partner Joe Bastianich, a restaurateur and the coauthor of Vino Italiano: The Regional Wines of Italy _(Crown, 2002). By gently mingling these with the recipes, photographs, and prose, _The Babbo Cookbook, like so many of its dishes—and like the restaurant itself—becomes an insalata of uncompromising flavors, elegance, and style.