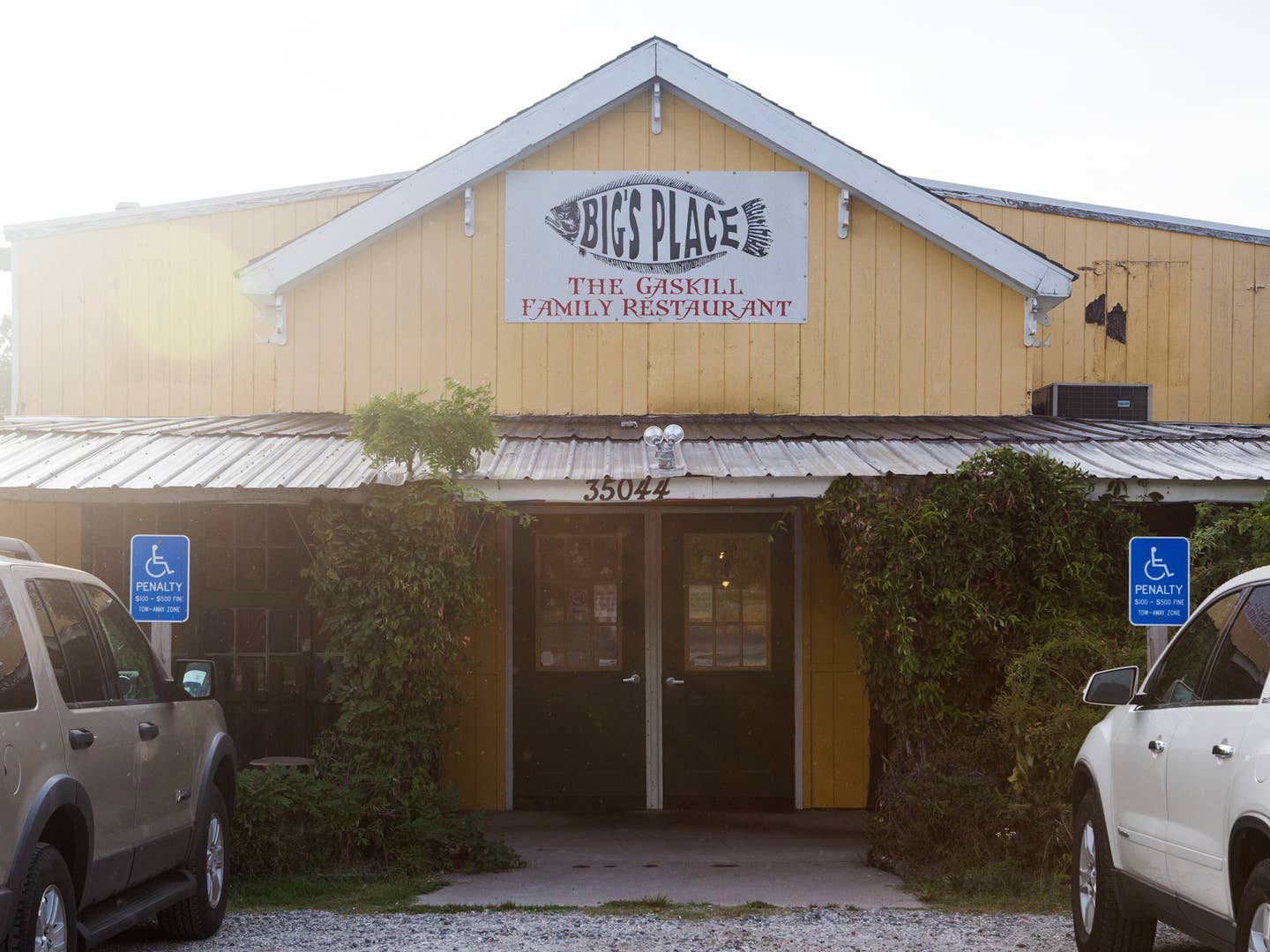 Culture
Surf and Turf: Eating Along Virginia's Eastern Shore
Virginia's Eastern Shore offers a bounty of regional specialties
Some 30 years ago, while roadfooding south along Highway 13 in Virginia between the Pocomoke Sound and the Atlantic Ocean—or, more significantly, between Chesapeake Bay jumbo lump crab cakes and Norfolk sauteed-in-butter crabmeat—we came across a motel restaurant called the Owl that claimed to have invented french-fried sweet potatoes. We didn't pay much attention to the potatoes because the Owl served so many other distinct and delicious regional specialties from this southern part of the Delmarva Peninsula (named for Delaware, Maryland, and Virginia), including pan-fried chicken with spoon bread, briny Chincoteague oysters, and dry-cured country ham. More recent trips opened our eyes to the fact that sweet potatoes are indeed something special along Virginia's bountiful Eastern Shore, where farmers still grow and sell such heirloom varieties as the ivory-hued, thin-skinned Hayman and the creamy, extra sweet Puerto Rican Red. The Owl is now long gone and french-fried sweet potatoes are these days common everywhere, but the breeze-swept peninsula from the Maryland state line down to the Chesapeake Bay Bridge-Tunnel, through such remote and strangely named places as Little Hell, Mutton Hunk, Ticktown, and Nassawadox, remains a wonderland of culinary arcana.
We had no idea, for instance, that peninsulites make a big deal of the difference between seaside oysters and bayside oysters, the latter being fairly bland but good for frying, the former bold and marshy and delicious on the half shell (like those Chincoteagues). Metompkin Seafood, between Temperanceville and Modest Town, does not serve them raw because proprietors J.C. and Ellen Hudgins can't abide the health department red tape involved, but their ramshackle roadside market and seafood shack offers steamed oysters (and clams, shrimp, and scallops) that are unimpeachable.
Other highlights of the handwritten menu posted above Metompkin's counter include softshell crabs (when in season between May and September), fried-fish sandwiches, and Ellen's flaky blue-crab cakes. While you wait for J.C. to cook your order and Ellen to bring you your Styrofoam clamshell of food, you can wait in the one-room commissary, decorated with fishing equipment from J.C.'s days as a waterman, and peruse ice beds arrayed with flounder, catfish, shrimp, scallops, and clams, or shelves of hot sauce and fish-fry mix.
The whole affair is a true mom-and-pop operation, about which J.C. explains, "We own it, we take care of it, and we don't have to pay each other, so business is fine." In fact, prices are ridiculously low: $3.95 for a bounteous flounder sandwich; $11.95 for a half-pound of fried shrimp with fries, coleslaw, and hush puppies. Dining is outside, at picnic tables or on the hood of your car.
Driving farther south on Route 13, look for Becca's, a house on the left marked with a sign that says "Smith Island Cakes". Smith Island, one of two inhabited islands in the Chesapeake Bay, is actually part of Maryland, and its amazing cake—which comes in different flavors and is composed of eight to ten wafer-thin, well-frosted layers—was anointed the state's official dessert in 2008. But Rebecca Crutchley grew up on Tangier Island, the other inhabited one, which belongs to Virginia, and ate the cakes all her life. (Although a recipe for Smith Island cake didn't appear in print until the 1980s, the stack-cake tradition has its roots in the tortes Welsh settlers baked in the 17th century.)
"People tell me I should call it a Tangier Cake," Becca jokes, confiding that the key to her version is baking individual layers rather than slicing thick ones. Yellow butter cakes get fudge icing, white cakes come with cream cheese icing, and other flavors include chocolate-cherry, banana-caramel, peanut butter, and red velvet. In addition to selling cakes to go, Becca's has two cozy dining rooms and a menu that features the likes of crab melt "the Tangier way," meaning local lump crabmeat topped with warm havarti cheese on a toasted croissant, and cream of crab soup sided by sweet potato biscuits.
An unluckily named but tasty specialty found along the Eastern Shore is known as swelling toads, which are tiny blowfish (not poisonous) that fry up flat, tender, and sweet in a pan of butter. Big's Place, located in a former gallery in the town of Painter, is a wonderful place to eat a plate of these puffers, as well as more familiar fare such as soft crabs (what the locals call softshells), fried seaside oysters, and shrimp and grits. Pray that grandmom's coconut sour cream cake is available when you come. If it isn't, Pauline's ultra-tall lemon meringue pie is a fine sweet-tart consolation.
Swelling toads aren't on the menu at the vintage Exmore Diner, a wood, tile, and stainless steel streamliner just off the main road on Business Route 13, but they frequently are available, as are fried, meaty ribs from large black drumfish-a migratory fish that's available locally come spring and summer. The Exmore is also known for its pancake-flat, griddle-cooked blue-crab cakes ("shell is possible," the menu warns), beautiful fried butterflied shrimp, and a platter of all types of seafood on offer, which is, the house boasts, the "largest plate anywhere." Breakfast, featuring such mid-Atlantic signatures as creamed chipped beef, sausage gravy biscuits, and scrapple with grits, is an especially propitious time to eat here, for the Exmore is where the town comes to share its morning news, and it is small enough that conversations are communal. Our most recent visit was just after the Christmas blizzard of 2010; counter and booths were abuzz with tales of plowing, busted pipes, frozen gas lines, and treacherous back-roads snowdrifts.
South of Exmore in Machipongo, Quail Cove Farms operates a store dedicated to all kinds of natural and organic foods, including Ohio Amish flint cornmeal and pork sausage from hogs "raised with care." Proprietor Bill Jardine grows his own sweet potatoes—several varieties, including Hayman and Hernandez, as well as supermarket standard Beauregard, with its pumpkin orange flesh. In the summer, count on Quail Cove to stock an inventory of gorgeous tomatoes, familiar and exotic; as much as 80 percent of Virginia's tomato crop comes from the Eastern Shore.
Year-round, Cape Charles—just north of the Bridge-Tunnel—is a destination for hungry pilgrims who come to Sting-Ray's, a place the locals call Chez Exxon because it is located in a filling station. Informal as Sting-Ray's is, this one-of-a-kind diner offers masterful renditions of such luxury local meals as crab imperial and stuffed flounder, as well as fried seaside oysters as good as anyone's. Sweet potato pie is a specialty, each slice topped with damson plum preserves, and Sting-Ray's ham biscuit wins our nomination to the Sandwich Hall of Fame. It is country ham, Virginia-style, meaning salty but not insanely so, sliced thin and loaded into a biscuit. This is not a regular biscuit, but a sweet potato biscuit: warm and painfully tender, its soft orange earthiness a perfect foil for the chewy pink ham inside. It is an intoxicating yin-yang flurry that arouses appetite even as it sates it. Each biscuit costs $1.62, which is about the most pleasure per penny of any food we've ever found.
The Guide to Virginia's Eastern Shore
Becca's
24399 Lankford Highway, Tasley
757/789-3686
Big's Place
35044 Lankford Highway, Painter
757/442-5535
Metompkin Seafood
14209 Lankford Highway, Mappsville
757/824-0503
Quail Cove Farms
12435 Machipongo Lane, Machipongo
757/678-1275
Sting-Ray's
26507 Lankford Highway, Cape Charles
757/331-1541