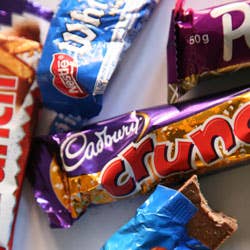 Culture
Sweet Things
We'd travel far and wide for just one bite of these unusual international candy bars.
In our search for five fantastic international candy bars for this year's SAVEUR 100, we tasted dozens of delicious treats. Here's a peek at some that didn't make the cut-but sure did make our mouths water.
It may be onomatopoeically challenged, but the Plopp makes our list of favorite foreign candy bars because it tastes much better than it sounds. Manufactured in Sweden by Cloetta, the Plopp has been a Nordic favorite since 1949. With a soft, gooey caramel center surrounded by creamy milk chocolate and a consistency similar to that of the American treat the Rolo, this Plopp is no flop.
Known throughout the Pacific as "hokey-pokey", the Crunchie Bar, a beloved Cadbury candy, has crisp, light honeycomb as its centerpiece. With a milk chocolate coating and a light, sweet center that dissolves in your mouth as you chew, the Crunchie has been a staple in the diet of many Australian and New Zealand candy lovers diet since its debut, in 1929. Now it also has an Australian relative, the Violet Crumble, which, despite a bitter aftertaste, is nearly as cherished as the classic. It's even available in many gourmet shops in the U.S., so you don't have to fly around the world to find it.
Don't be alarmed; while making the Idaho Spud Bar, the folks at the Idaho Candy Company stop short of actually putting potatoes into the candy. The confection is shaped like a potato, however, and is proud to call itself the Idaho Candy Company's best-selling bar. Around since 1918, the Spud features a cocoa-flavored marshmallow center enrobed in dark chocolate and lightly dusted with coconut flakes. It also has its own online fan club where you can find recipes for such things as chocolate Spud cream pie and Idaho Spud fondue.
Though not technically candy bars, Pineapple Lumps are popular New Zealand candies with such a unique taste that we had to mention them. Their yellow, Charleston Chew-ish centers, dipped in milk chocolate, add up to a sweet that is like no other. Beware, though: although each piece of it looks small, this tropical-flavored delight will glue your jaw shut and keep you chewing for hours.